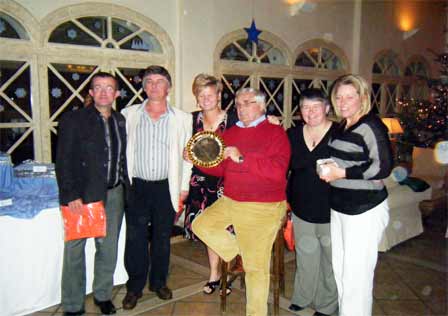 The winning Team Paul Taylor, Nicky and Bill Illes with Trish Johnson, Kirsty Taylor and Club Captain Barry Carver
The 2010 'Golf 4 All' Pro-Am was played over the Indiana Course at Desert Springs on the 4th and 5th January. Six players from the Ladies European Tour partnered Desert Springs members and guests in a unique two day pro-am tournament.
The first round Texas Scramble was won by Desert Springs member, Paul Taylor, and guests Nicky and Bill Iles playing with tour legend, Trish Johnson. A run of 9 consecutive birdies from the first hole helped them to amass a total of 52 points and a 2 point lead going into the second round.
Trish Johson also captained the winners on day 2, her team of Alan Patterson, Helen Lavis and Sergio Saavedra scored 81 points in the best from 2 scores format, representing a total of 9 under par, a total also good enough to lift them to the runners up slot in the aggregate event.
The winners of the 2010 'Golf 4 All Pro-Am', partnered on the second day by Kirsty Taylor, were the team of Paul Taylor, Bill and Nicky Iles with an aggregate score over the two days of 132 points.
For further information contact: Christine Langford
Email: cl@almanzora.com
Telephone: +34 627 484 460