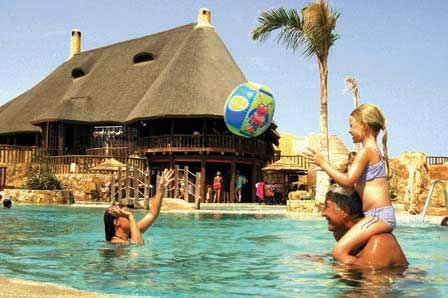 The Crocodile Club at the heart of Desert Springs which offers holidays planned to keep the whole family happy, despite predictions of a wetter-than-average summer in the UK this year. For details call +44 (0) 1242 680 299 or visit www.almanzora.com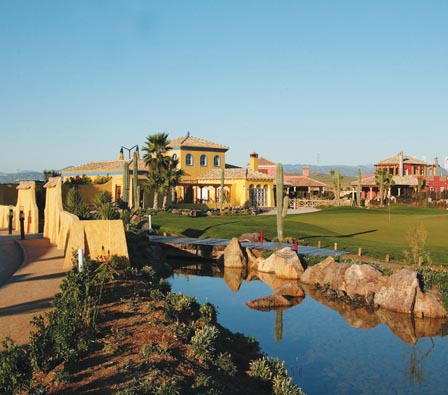 The Golf Club House at Desert Springs where golfers can enjoy the 72 par 18-hole USGA Indiana golf course designed by former Great Britain and Ireland Golf Team Captain Peter McEvoy. For details call +44 (0) 1242 680 299 or visit www.almanzora.com
Predictions of a wetter-than-average summer in the UK this year have prompted a Cheltenham firm to offer holidays planned to keep the whole family happy – in the desert!
The Almanzora Group is offering week-long holidays at Desert Springs, Europe's only international award-winning luxury family resort and championship desert golf course in the Almanzora region of Almeria in south-east Spain.
Easy to reach by two-and-a-half hour scheduled and charter flights linking many UK airports with those at Almeria, Murcia and Alicante, the Almanzora region enjoys a desert microclimate – unique in Europe – with an annual average of more than nine hours of daily sunshine and maximum daily temperatures of between 16°C (60°F) and 30°C (86°F) throughout the year.
In addition to accommodation in modern self-catering apartments around a courtyard and pool, or an Andalusian patio with orange trees, family packages embrace a variety of activities designed to appeal to every member of the family.
Typically they include use of the Crocodile Club at the heart of the resort with pools, equipped sand play areas and a games room, as well as a jacuzzi, sun lawns and a pool bar.
While experienced golfers enjoy the 72 par 18-hole USGA Indiana golf course at Desert Springs – it was designed by former Great Britain and Ireland Golf Team Captain Peter McEvoy, inspired by the desert courses of Arizona and California – one member of the family can take a lesson with the resort's resident golf professional.
Massages at the Day Spa, a mountain bike trail ride with a picnic provided, tennis lessons, or use of sports and fitness facilities ranging from a gymnasium, trim trail and jogging tracks to paddle tennis and beach volley ball are among other options.
The quality and value of family holidays at Desert Springs have been endorsed by Sir Ian Botham. The former England Test cricketer, who has a home in the resort, said:
"I love the peaceful atmosphere and the desert microclimate we enjoy in this corner of Spain. Desert Springs is our perfect family retreat, offering an amazing variety of sports and leisure facilities so there is always something for all the family to enjoy."
For a family of four, the cost of a self-catering week at Desert Springs starts at £885 rising to £1,475 in the August peak season. Also available are three-day family breaks.
For more information about holidays and breaks at Desert Springs, call +44 (0) 1242 680 299 or visit the website, www.almanzora.com
IMPORTANT NOTE
To avoid confusion, please note that this document refers to two organisations with names which are similar but different. They are The Almanzora Bay Group [THE DEVELOPER] and The Almanzora Group Ltd [THE AGENT].
The Almanzora Bay Group, named after the Almanzora region of Eastern Andalucia where it has been active since 1985, is an Anglo-Spanish sister group to the award-winning Cheltenham-based developer, the Robert Hitchins Group. Established in 1958, the Robert Hitchins Group specialises in large-scale strategic land planning and commercial development in the West of England and South Wales.
The Almanzora Group, which is a subsidiary of the Robert Hitchins Group, is the main European sales agent and acts exclusively for the development companies which comprise the Almanzora Bay Group, marketing new properties developed by The Almanzora Bay Group in resort, village and beach locations.
Please note that none of the above have any connection with the Spanish development known as The Almanzora Country Club.
Reader enquiries:
Media enquiries:

The Almanzora Group Ltd
The Manor
Boddington
Cheltenham
Gloucestershire
GL51 0TJ

Tel: +44 (0) 1242 680 299

e: tag@almanzora.co.uk
www.almanzora.com

Tim Stanley
Tim Stanley Public Relations
2 Grange Court Road
Bristol
BS9 4DP

Tel: +44 (0) 117 9625658

e: tim@timstanleypr.co.uk
www.timstanleypr.co.uk