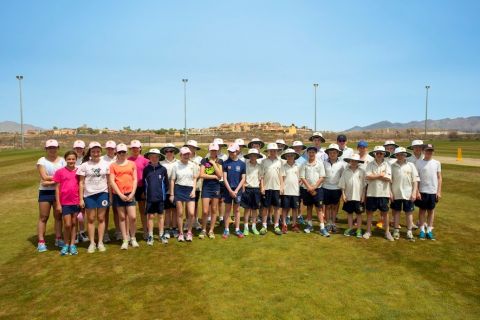 Cheltenham College Prep School during their 9th Annual return to the Desert Springs Resort for their Pre-Season Cricket and Summer Sports Training Camp
Cheltenham College Prep School cricketer's are now back in England having completed a successful 5 days of warm weather cricket and sports training between 12th – 16th April at Desert Springs Resort, Europe's only international award-winning luxury family resort and championship desert golf course with its very own dedicated Cricket Academy, in the Almanzora region of Almeria, Andalucía in south-east Spain.
Kim Parsley, Tour Manager and his team of seven staff accompanied thirty-two players, ten girls and twenty-two boys for what has now become their 9th Annual Pre-Season Cricket Training Camp.
Kim Parsley remarked:
"The boys enjoyed their usual diet of cricket, followed by cricket and more cricket. The girls, however, experienced a veritable smorgasbord of sporting options, including tennis, track and field, rounder's, gym, a 'trim trail, swimming as well as cricket.
Coaching from 09:00 hrs. until 17:00 hrs. was the routine for the day, with so many coaching opportunities at differentiated levels possible."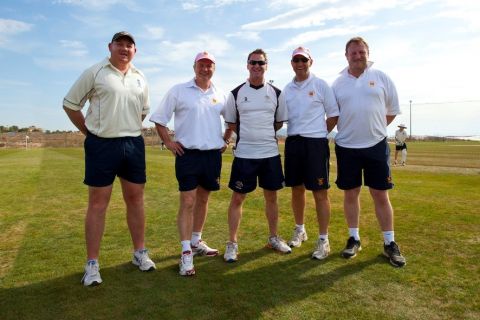 Kim Parsley (Second Left) with support staff
Kim continued:
"The small amount of 'downtime' was utilised in having a golf lesson, or horizontal absorption of UV rays, some chose to do some CE revision, or read quietly. All visited the local Moorish town of Mojacar Pueblo, where sombrero folding became an art for the staff!
The accommodation was first class – luxury 4-berth apartments, superb meals both in quality and quantity – and all so adjacent to the sporting facilities.
The icing on the cake, literally, was an unforgettable birthday for one member of the party with candles, a sing-song and excellent chocolate cake for all – and to be presented with a signed memento by England's greatest cricketing all-rounder, who happened to be holidaying on the resort at the same time! All 32 boys and girls enjoyed themselves and made excellent sporting progress – Desert Springs really is a beautiful place!"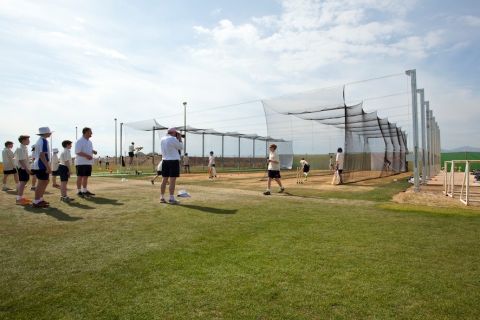 'Net Practice Session' at the Desert Springs Cricket Academy