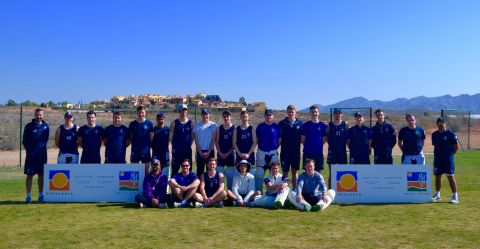 Durham MCCU: – Back Row From Left: Paul Grayson (Head Coach), Sebastian Stewart-Taylor, Gibson, William Philips, Jamie Monkhouse, Varum Sivaram, Hugo Darby, Eben Kurtz, Luke Mullen, Frederick Davies, Jack Clark, Tim Alexander, Joseph Cooke, William Fraine, Jack Wood, Xavier Owen, Darrell Williams and Gareth Breese (Spin Bowling Coach). Front Row From Left: – Vicram Sohal, Justin Langen, Cameron Steel, Jake Dunford, James McCollum and Edward Pollock
Durham MCCU players are now back in England having completed a successful seven (7) days of warm weather pre-season cricket and fitness training between Saturday 19th – Friday 25th March at Desert Springs Resort, Europe's only international award-winning luxury family resort and championship desert golf course with its very own dedicated Cricket Academy, in the Almanzora region of Almeria, Andalucía in south-east Spain.
Paul Grayson, Durham MCCU Head Coach and Gareth Breese, Spin Bowling Coach, accompanied twenty-two (22) players who completed bowling, batting and fielding practice as well as strength and conditioning training sessions as they stepped up their physical preparations for the upcoming 2016 season.
Paul Grayson, a former English cricketer who played first-class cricket for Yorkshire and Essex and following his playing retirement served as Essex's head coach from 2007 to 2015 commented:
"This has been an exceptional week at Desert Springs, it just couldn't have gone any better!
The service we have received throughout the whole resort has been sensational.
The cricket facilities are top class and exactly what we needed after winter training back in England.
We look forward to seeing you again in 2017!"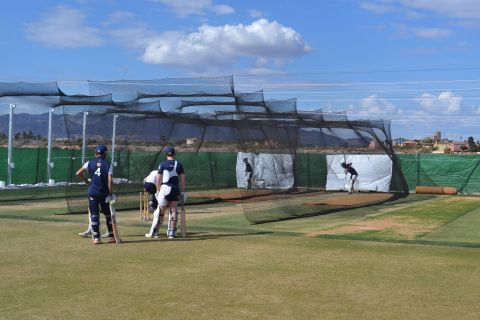 'Durham MCCU Nets Practice Session' at the Desert Springs Cricket Academy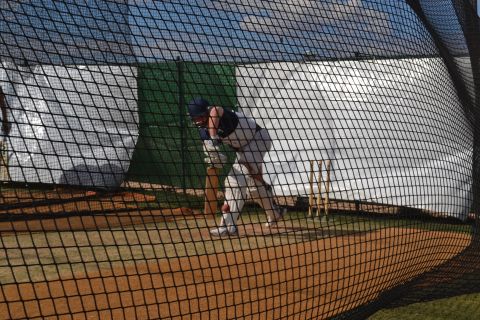 'Durham MCCU Batsman Practice Session' at the Desert Springs Cricket Academy
The training camp worked on a specific and carefully planned programme covering technical skills, strength and conditioning and both individual and group activity.
Durham MCCU players said of their pre-season training experience at the Desert Springs Cricket Academy:
"The Desert Springs Cricket Academy has top quality facilities, a special thanks to the groundsmen who looked after them so well. The food and accommodation is also of a great standard, thank you to all of the staff." Joseph Cooke
"The Cricket Academy provides top facilities to train on, providing a great run into the English cricket season. The resort villas, food and hospitality is excellent and I would highly recommend Desert Springs to all!" Edward Pollock
"I have had a great week here at Desert Springs! The nets have been brilliant and the hospitality has also been great. The weather and location make it great for any pre-season tour. " Cameron Steel
"This has been a unique opportunity to develop the team's cricketing abilities in a relaxed and highly hospitable environment, a very enjoyable week!" Frederick Davies
"Desert Springs provides great facilities, beautiful weather and very friendly and welcoming staff. We have had a very enjoyable week and a perfect pre-season training camp before returning to the cold!" Jack Wood
"This has been a fantastic week of cricket, weather and facilities. The atmosphere was fantastic and I would come back again!" Justin Langen
"A brilliant week! Great accommodation, fantastic facilities and a great atmosphere, thank you!" Jake Dunford
"Great facilities with a great atmosphere to train in before the summer season!" Xavier Owen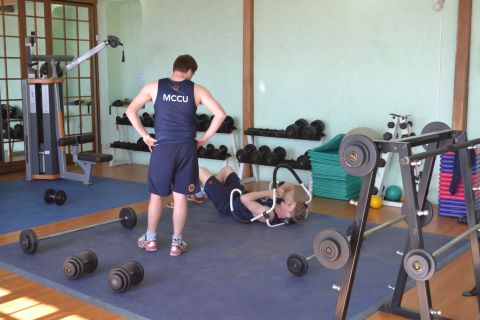 Durham MCCU 'Strength & Conditioning' Training at the Sierra Sports Club Gym
To view a video of the Desert Springs Cricket Academy view: – Desert Springs Cricket Academy
The players and coaches were accommodated in some of the privately owned apartments & townhouses normally reserved for holidays and short breaks at Desert Springs and the resort's executive chef was on hand to cater for the special dietary requirements of individual players dining in El Torrente Restaurant.