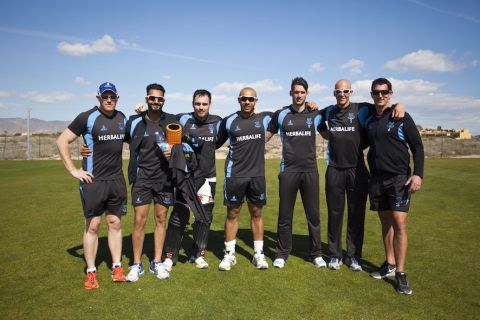 Sussex County Cricket Club Bowling Coach Jon Lewis (Far Right) and Nicholas Lee Sussex County Cricket Club Strength & Conditioning Coach (Far Left) with players attending the Pre-Season Training Camp
Sussex County Cricket Club players are now back in England having completed a successful ten (10) days of warm weather pre-season cricket and fitness training between Monday 23rd February & 4th March at Desert Springs Resort, Europe's only international award-winning luxury family resort and championship desert golf course with its very own dedicated Cricket Academy, in the Almanzora region of Almeria, Andalucía in south-east Spain.
Jon Lewis, Sussex CCC Bowling Coach and his team of two staff accompanied nine (9) players who completed bowling, batting and fielding practice as well as strength and conditioning training sessions as they stepped up their physical preparations for the upcoming 2015 season.
Jon Lewis, Sussex CCC Bowling Coach, who represented England across all three formats of the game, amassing 849 first-class wickets during his first-class career, commented:
"Our second training camp at Desert Springs has been a resounding success, the staff were welcoming, helpful and efficient throughout our stay. There seems a real hunger for improvement and the openness of the resort to our feedback I am sure bodes well for the development of an outstanding cricket facility for years to come."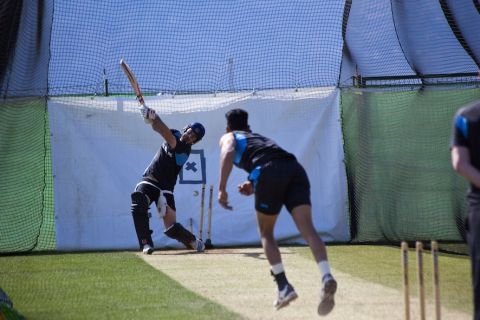 'Nets Practice Session' at the Desert Springs Cricket Academy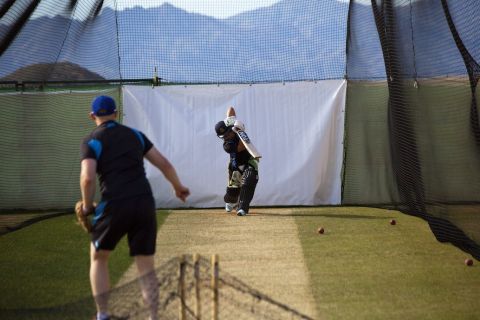 'Batsman Practice Session' at the Desert Springs Cricket Academy
The training camp worked on a specific and carefully planned programme covering technical skills, strength and conditioning and both individual and group activity.
Sussex CCC players said of their pre – season training experience at Desert Springs Resort:
"Great service & people! Awesome preparation for the season!" Craig Cachopa
"Another great trip to Desert Springs. A perfect preparation for the season ahead, well looked after and great facilities!" Steven Magoffin
"A great 10 days with fantastic facilities, nice weather and lovely staff." Timothy Moses
"Great facilities and well looked after." Ben Brown
"Looked after tremendously – lovely location, facilities, weather and staff, thank you!" Michael Yardy
"My first time here, very pleasantly surprised, nets very good to bowl on." Ajmal Shahzad
"Thank you for a great trip. The facilities were fantastic and gave us a great preparation for the coming season." Christopher Liddle
"Great facilities, welcoming staff & brilliant accommodation, thank you." Lewis Hatchett
"My first time here. Great preparation for the season ahead with everything we needed on site and easily accessible, thank you." Tymall Mills
The players and coaches were accommodated in some of the privately owned Villas & Townhouses normally reserved for holidays and short breaks at Desert Springs and the resort's executive chef was on hand to cater for the special dietary requirements of individual players dining in El Torrente Restaurant.
For further information contact: The AlmanzoraGroup Ltd
Tel: +44 (0) 1242 680 299