THEY WALKED IN AND CRAWLED OUT……..
BUT WITH SMILES ON THEIR FACES!!!!
'THE OLYMPIC' FEELING WITH
DALEY THOMPSON @ DESERT SPRINGS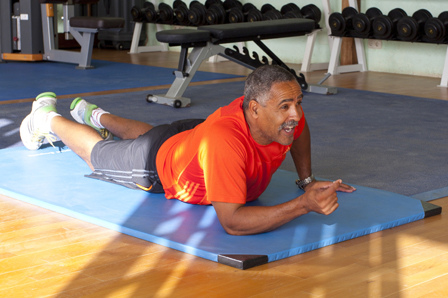 Daley Comments … Come on just a tiny bit more and you're there!
Daley Thompson, two time Decathlon Olympic Gold Medalist and villa owner at Desert Springs, most definitely put Desert Springs Owners and Residents through their paces at the resorts Sierra Sports & Fitness Club yesterday!
Daley said: –
"It was great to see so many keen enthusiasts wanting to enjoy their training, the sessions were fun and we all had a great time, so much so that I even agreed to repeat the sessions this morning for those willing die hards!"
We bow to the master!
Jonathan & Stacey Bunn, who are currently on holiday at Desert Springs attended the training session.
Jonathan remarked: – "Where else and when do you receive the opportunity to benefit from a complimentary personal training session with such a worldwide legend as Daley Thompson?!
An unbelievable opportunity that I was not going to miss and it was fantastic!!!!"
Stacey Bunn said: –
"Coming away on holiday I did not expect to end up being trained by an Olympic legend, especially not Daley Thompson and he did not disappoint!
The session was professional, tough and well thought out. Where's the Daley Thompson DS workout DVD?!'…..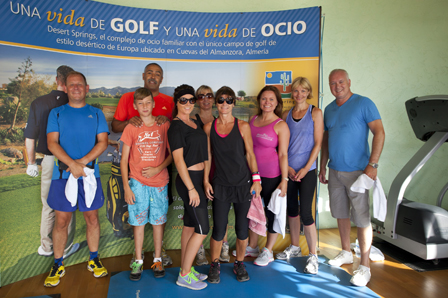 Still standing … Just about!
As a beginner to the gym and fitness I did not feel intimidated or nervous, it was a fun morning with Daley within a small group of different levels which he fully catered for.
Would have gone back the next day but couldn't walk and the wine didn't help!"
Thanks Daley and Desert Springs!
For further information please contact: Golf reception
Tel: +34 637 861 591
Email: golfreservations@almanzora.com