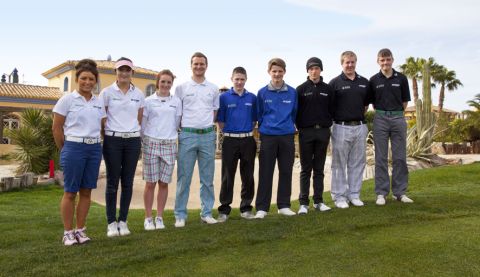 The Darren Clarke Golf School based at Greenmount Campus close to Antrim, Northern Ireland, named the Desert Springs Resort and Golf Club as their overseas winter training base for the winter season of 2012/13.
The Darren Clarke Golf School is a centre of excellence in the development of young golfers, offering state of the art facilities, a unique golf training programme, combined with a robust education through the BTEC Extended National Diploma in Sport, which is delivered by Northern Regional College at the School.
During this winter season, Desert Springs has been host to three separate training camps for the Darren Clarke Golf School.
The most recent training camp comprised eight transition students, made up of three girls and five boys aged between 15 – 18 years. The students were accompanied by their PGA instructor Jack Murgatroyd between 22nd – 29th January for a week long intensive training programme to develop their individual golfing skills in warm weather while experiencing a golf course which offers a challenge to players at all levels.
The students and officials were accommodated in some of the privately owned apartments normally reserved for holidays and short breaks at Desert Springs and the resort's executive chef was on hand to cater for the special dietary requirements of individual players dining in the award-winning El Torrente Restaurant.
During their time at the resort the players have utilised the excellent practice facilities at the Golf Academy and played the Indiana golf course.
"The golf course was in fabulous condition, the greens were very fast and the practice facilities were great; we were constantly serviced with range balls at the golf academy and training in this weather is not comparable with home, so I will definitely come back! That was the verdict of 16-year old Caroline Hewitt.
Student Jamie Byrne, 15 years of age, remarked of the Golf Academy:
"I was pleased that the practice greens are of the same speed as the greens on the course, which is very important. At the golf academy there were always plenty of range balls and the staff throughout our stay were perfect, they couldn´t be any better."
Jack Murgatroyd, Darren Clarke Golf Instructor commented:
"I couldn´t fault Desert Springs at all; this is my third visit and it´s always great to be here.
The golf facilities are brilliant; I could say they´re the best I´ve ever seen.
The Caddy Master, bar attendants, they know you and give you a personal touch which makes you feel welcome and very comfortable whilst at the Resort."
For further information on the Darren Clarke Golf School visit their official website www.darrenclarkegolfschool.com
For further information contact: José Ignacio Olea
Tel: +34 670 613 900
Email: jioz@almanzora.com
www.almanzora.com