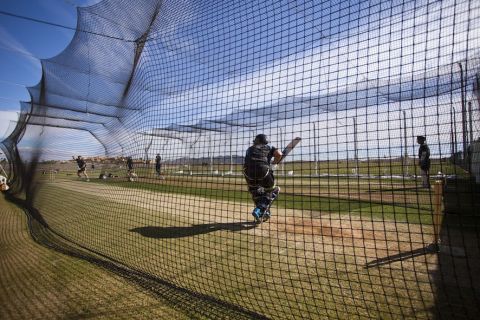 Durham University Centre of Cricketing Excellence (Durham MCCU) will be stepping up their preparations for their 2016 cricket campaign by completing their 7-day warm weather pre-season training camp at the Desert Springs Cricket Academy between Saturday 19th – Friday 25th March 2016.
To view the video of the Desert Springs Cricket Academy Click Here
Durham MCC University is a cricket-coaching centre based at Durham University in Durham, County Durham, England, and is the name under which the university's cricket team plays.
The coaching centre is largely funded by the Marylebone Cricket Club (MCC) and as of 2012; they are one of six MCC University teams in England who are considered a first-class team when playing against other first-class sides.
Former Essex coach Paul Grayson was announced as the new coach in September 2015 and the team's home ground is The Racecourse, Durham University's home ground since 1843.
Since obtaining first-class status in 2001, the university has produced a large number of cricketers who have obtained professional county contracts, while others such as James Foster have gone on to play international cricket. Prior to first-class status, players such as Andrew Strauss and Nasser Hussain played for the university's cricket club.
The Durham MCC University team training camp will comprise Twenty-Two (22) players and Two (2) coaches, all of whom will be spending their time completing numerous training sessions each day, which will include grass net practice, both bowling and batting, strength work, running, speed and agility work. As they will be outside and on grass, the squad will also be able to do fielding and throwing practice in realistic conditions, something not possible indoors back in the UK.
The Almanzora Group Sales & Marketing Manager, Simon Coaker remarked: –
"We are delighted to welcome Durham MCC University for their inaugural pre-season training camp at the Desert Springs Cricket Academy. They will be following in the auspicious footsteps of The Tom Maynard Trust, Somerset CCC, Sussex CCC and Glamorgan CCC who have already completed their pre-season training camps at Desert Springs recently."
The feedback received from those visiting Cricket groups can be viewed Here.
Accommodation for the players and coaches is in some of the privately owned apartments and townhouses at Desert Springs Resort normally reserved for holidays and short breaks and the resort's executive chef will be on hand to cater for the special dietary requirements of individual players dining in the resort's award-winning El Torrente Restaurant.