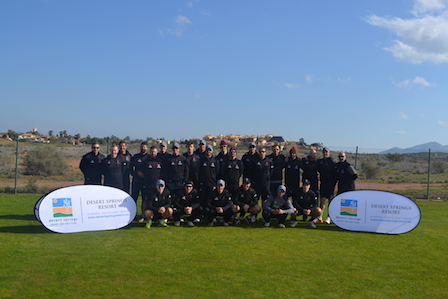 Somerset CCC 2017 Pre-Season Winter Training Camp at Desert Springs Cricket Academy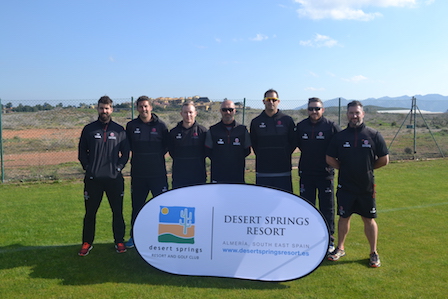 From Left to Right above; Jamie Thorpe (Lead Physiotherapist), Steve Snell (Academy Director), Chris Rodgers (Batting Coach), Matt Maynard (Director of Cricket), Jason Kerr (Assistant Coach / Bowling), Paul Tweddle (Assistant Coach / Development), Darren Veness (Strength and Conditioning Coach)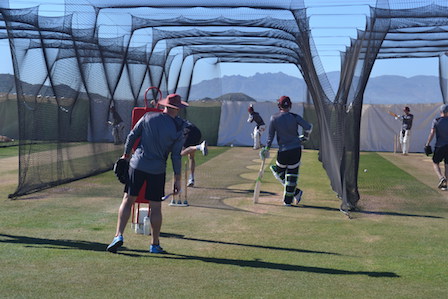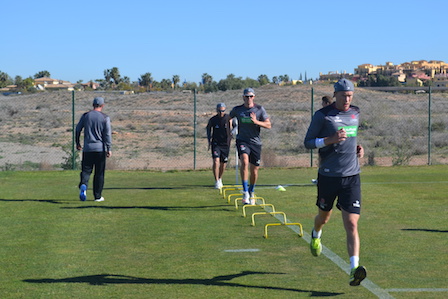 From:

Somerset County Cricket Club

Date:

17th March 2017

Subject:

Some comments from the Somerset CCC players and officials further to their 10 - day winter training camp between the 6th – 16th March, 2017 at Desert Springs Resort
Somerset County Cricket Club players are now back in England having completed a successful ten (10) days of warm weather pre-season cricket and fitness training between Monday 6th – Thursday 16th March at Desert Springs Resort, Europe's only international award-winning luxury family resort and championship desert golf course with its very own dedicated Cricket Academy, in the Almanzora region of Almeria, Andalucía in south-east Spain.
Seven Somerset CCC coaching staff accompanied twenty-two (22) players who completed bowling, batting and fielding practice as well as strength and conditioning training sessions as they stepped up their physical preparations for the upcoming 2017 season.
Somerset CCC Director of Cricket Matt Maynard commented:  "Another top class training camp, most importantly the playing surfaces are improving year on year which is our number one priority. Thank you to all the staff for looking after us so well."
Jamie Thorpe, Somerset CCC Lead Physiotherapist remarked; "Another sensational trip to Desert Springs. Excellent facilities, food, and Golf Course. Thank you!" 
The training camp worked on a specific and carefully planned programme covering technical skills, strength and conditioning and both individual and group activity that included golf on the championship Indiana course as well as a mountain bike ride!
Somerset CCC players said of their pre-season training experience at the Desert Springs Cricket Academy:
"Yet again a great training camp at Desert Springs. Constantly fantastic facilities, alongside a great golf course. Once again leaving Spain fit and ready to go. Many thanks to all staff." Peter Trego
"I had a fantastic time at Desert Springs. The facilities are superb and I would love to be back next year!" James Hildreth
"Excellent facilities. The net surface was fantastic and the golf sensational. Very welcoming staff and quality food, thank you!" Josh Davey
"A great 10 days. The Resort keeps on improving every year we visit!" Jim Allenby 
"The net surfaces have really, really improved! Very friendly staff. Many thanks to all staff for another great visit!" Johan Myburgh
"A very enjoyable 10 days. Great facilities, friendly staff!" Max Waller
"This was my first time at Desert Springs. Lovely facilities with great hospitality. Very good food and welcoming staff." Dom Bess