Desert Springs Resort will be host to the 'IV Desert Springs & Millfield European Schools Team Championships' between Sunday 12th to Wednesday 15th February 2017.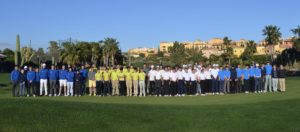 The Team Championships is open to boys and girls of all ages with a maximum handicap of 24 and will be held over 3 days (54-Holes).
A record high field of Seventy-eight (78) full time students accompanied by fifteen (15) coaches and staff representing; defending Champions Millfield, with Loretto, Bradfield, Whitgift and Uppingham Schools along with the Kevin Cademy Taylor Academy, will compete for this year's coveted title.
The tournament format is 4 Ball-Better-Ball Stableford Points on Day 1 & 2 with 3/4 Handicap allowance. The best two-stableford points scores from each team will be combined to achieve the team score. The competition format for Day 3 is Best two Individual Stableford scores (Full Handicap Allowance) from each team being combined to achieve the teams' total Stableford score over the three days.
The EGA has an established Handicap Conversion for CONGU players depending on the course slope rating. The Handicap conversions below will be applied:
Championship Tee – Handicap Conversion +1.1
Men's Tee – Handicap Conversion -0.5
Ladies Tee – Handicap Conversion +1.4
Additional prizes during the event shall include;
A trophy to the player with the best Individual Stableford score on tournament day three.
A trophy to the player with the best Scratch score playing from the Championship Tees on tournament day three.
A trophy to the player with the best Scratch score playing from the Ladies Tees on tournament day three.
The students coaches and school staff will be accommodated in some of the privately owned Apartments, Townhouses and Villas normally reserved for holidays and short breaks at Desert Springs and the resort's executive chef will be on hand to cater for the special dietary requirements of individual players dining in the Crocodile Club.
Simon Coaker, Desert Springs Director of Golf, remarked:
"The inaugural competition in 2014 provided  the opportunity for schools from within Europe to come together at one meeting point and compete against other schools in a friendly atmosphere, some of whom they would not normally compete against.
The event now in its fourth year has gone from strength to strength, confirmed by the record number of players participating this year and we are very much looking forward to welcoming all of the competitors to what we are confident is going to be another great tournament and a fun packed few days."
For more information, please contact Desert Springs Golf Services Manager Kirk Lovell.