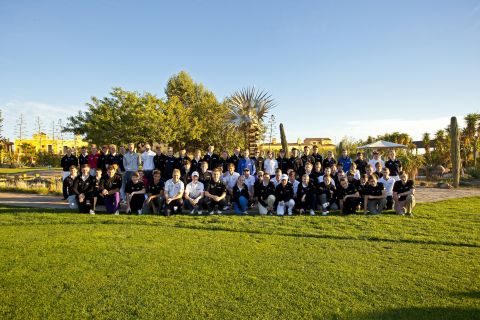 Eight Lee Westwood Golf School PGA Instructors accompanied seventy-seven boys and four girls aged between 15 – 18 years for 4-days of warm weather winter training at the Desert Springs Resort between 13th & 17th January.
The Lee Westwood Golf School based at Macdonald Portal Hotel, Golf & Spa in Cheshire and Stoke-by-Nayland Hotel Golf & Spa in Essex, accommodates students on a residential basis and offers promising talented golfers the opportunity to gain nationally recognised educational qualifications whilst developing and improving their golf game.
"The golf course was fabulous, challenging but at the same time great. I can't wait to come back and play the Indiana course again!"
"A great week at a quality resort with excellent facilities, I have had a thoroughly enjoyable experience at Desert Springs."
Those are the verdicts of Abbe Symanes and Taylar Caner, two full time students from the Lee Westwood Golf School.
The students and officials were accommodated in some of the privately owned apartments normally reserved for holidays and short breaks at Desert Springs and the resort's executive chef was on hand to cater for the special dietary requirements of individual players dining each evening in the Crocodile Club Restaurant.
During their time at the resort the players have utilized the excellent practice facilities at the Golf Academy and played the Indiana golf course.
Michael Welch, Lee Westwood Golf School PGA Instructor remarked:
"Desert Springs is a fantastic resort with great staff and perfect practice facilities to allow our students to improve all parts of their game.
It has been a very productive winter training camp and we certainly believe that the students have had a great experience and maximized their time and potential whilst here.
The Lodge Accommodation was ideally located to all facilities and very much met with our expectations."
Jack Murgatroyd, Lee Westwood Golf School PGA Instructor remarked: As always, we have had a brilliant week and I can't say enough positive things about Desert Springs."
For further information on the Lee Westwood Golf School visit their official website www.leewestwoodgolfschool.com
Martin Brännström
Tel. +34 670 613 900
Email: mb@almanzora.com