One of Scotland's leading families of professional golfers is said to be thinking of buying a home alongside one of Spain's top golf courses, in order to ensure ideal conditions for year-round practice prior to international tournaments.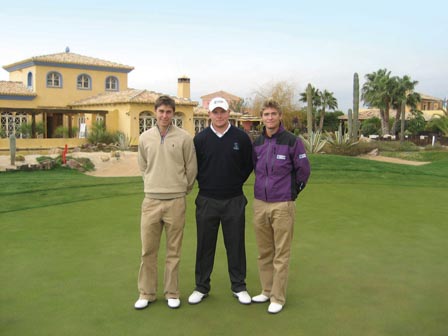 Pictured outside the golf clubhouse at Desert Springs are
the Saltman brothers, (left to right) Zack, Elliot and Lloyd.
Jack Saltman, his golf professional sons Lloyd and Elliot, and their teenage brother Zack, who is still an amateur, opted for a new year golfing break at Desert Springs, Europe's only international award-winning luxury desert resort and championship golf course in the Almanzora area of south east Spain.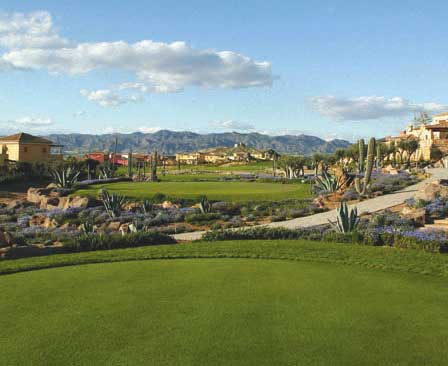 A view of the golf course at Desert Springs.
But when they went home to Edinburgh at the beginning of February, the winter weather was so bad that golfing was impossible, and they returned to Desert Springs to maintain their practice regime.
The Saltman brothers have been playing golf from an early age. Lloyd – who has won 36 amateur titles, culminating in the Irish Amateur Championship, Lytham Trophy, and Scottish Champion of Champions last year – the time spent in Spain was crucial to their preparations for the imminent coming season.
SAIL Open in New Delhi India will be the first competitive tournament in which Lloyd has competed since the Alfred Dunhill Links Championship in October, 2007. He will be joined in India by his brother Elliot and Zack who has been at Desert Springs preparing for the Portuguese Amateur Championships.
Former Open silver medal winner Lloyd commented: "It will be a whole new experience for me in India but, given that I have had the opportunity to get my game into shape during the winter at Desert Springs, I am going into the tournament as positive as I could possibly be!
p Indiana course is immaculate and offers a great test of golfing skills. The short game academy practice facilities are second to none and have allowed me to work on and improve our chipping and putting. What's more, it's a wonderful environment, out there in Europe's only desert."
The Saltman family's enthusiasm for Desert Springs was sparked last year when Elliot and Zack played in the Spanish International Amateur Open Championships at Desert Springs. It was reinforced during the Alfred Dunhill Links Championships when Lloyd struck up a conversation with cricket ace and golfing enthusiast Sir Ian Botham who has a home in the Desert Springs resort.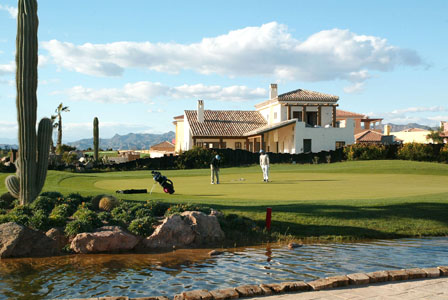 Another view of the golf course at Desert Springs.
Now Lloyd's father and brothers are so enthusiastic about the golf resort that they are thinking of following suit with a home of their own alongside the fairways.
They have plenty from which to choose. The Almanzora Group, which is the main European sales agent for properties at Desert Springs, currently is selling a variety of apartments, townhouses, cottages, villas and country houses in the resort at prices starting at around £170,000 for an apartment, rising to around £980,000 for a spacious country house.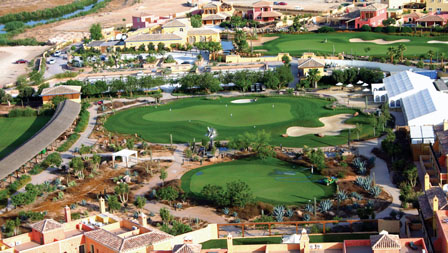 The Academy Practice Grounds at Desert Springs.
For more information about properties available, or golf at Desert Springs, contact The Almanzora Group on telephone +44 (0) 1242 680 116 or visit the website, www.almanzora.com
Background information about the Indiana golf course at Desert Springs
The 72 par 18-hole USGA Indiana golf course at the heart of Desert Springs was designed by former Great Britain and Ireland Golf Team Captain Peter McEvoy. He was inspired by the desert courses of Arizona and California.
The dramatic nature of the Desert Springs fairways, set in a landscape of cactus, rock and flowering desert, is said to have taken golf in Spain to a new level of excellence.
The first phase of the resort – already up and running – includes the Indiana Desert Golf Course and Club House and its international award-winning El Torrente Restaurant, as well as the Crocodile Club family restaurant and bar, with its pools, sun lawns and sand play bunkers. Also open is the Sierra Sports and Fitness Club which has facilities for tennis, paddle, gymnasium and football.
Golf Club joining fees for Non-resident Membership, for a family of up to four, are waived in the case of Almanzora Bay Group's own property purchasers.
The club runs a year-round calendar of tournaments for members as well as open tournaments including The Indiana Masters, The Desert Classic and The Professional Challenge Cup. In March, 2007, it hosted – for the second time in three years – Europe's most prestigious amateur tournament, the King's Cup – the Copa Del Rey – which is the Spanish International Amateur Open.
The resort's developer, the Anglo-Spanish Almanzora Bay Group, has future plans for the resort which include a second 18-hole golf course, a four-star golf and sports hotel, a super luxury five-star plus 'well being' and spa hotel. More homes ranging from apartments, townhouses and cottages to villas and country houses will be built to the highest standards of construction and finish.
The Almanzora region is easy to reach, thanks to three international airports. The current journey time from Almeria International Airport is around 50 minutes by road. Other international airports are at Murcia – 70 minutes by car on the new toll motorway direct to the Almanzora Valley (toll is €11.5) – and Alicante which is less than two hours by road.
IMPORTANT NOTE
To avoid confusion, please note that this document refers to two organisations with names which are similar but different. They are The Almanzora Bay Group [THE DEVELOPER] and The Almanzora Group Ltd [THE AGENT].
The Almanzora Bay Group, named after the Almanzora region of Eastern Andalucia where it has been active since 1985, is an Anglo-Spanish sister group to the award-winning Cheltenham-based developer, the Robert Hitchins Group. Established in 1958, the Robert Hitchins Group specialises in large-scale strategic land planning and commercial development in the West of England and South Wales.
The Almanzora Group, which is a subsidiary of the Robert Hitchins Group, is the main European sales agent and acts exclusively for the development companies which comprise the Almanzora Bay Group, marketing new properties developed by The Almanzora Bay Group in resort, village and beach locations.
Please note that none of the above have any connection with the Spanish development known as The Almanzora Country Club.
For further information contact: Tim Stanley
E-mail: tim@timstanleypr.co.uk
Telephone: +44 (0) 117 9625658