| | | |
| --- | --- | --- |
| | | |
| | | |
| | | |
| | Pictured is the winner of the third Schools European Golf Championship at desert Springs, 13-year-old Alexander Wilson from Loretto School. | |
| | | |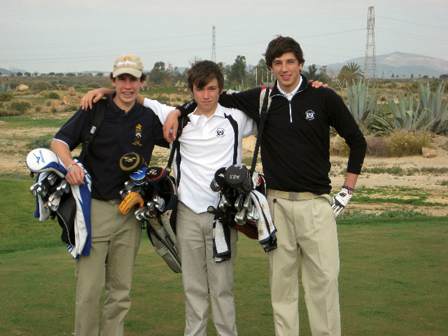 Pictured at Desert Springs are (left to right) golfers Will Sadler of Reading Blue Coat School with Peter Templeton and Lewis Gregory, both from Loretto School.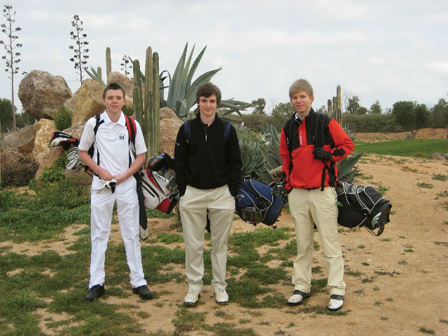 Pictured at Desert Springs are (left to right) golfers Ian McDowall (Loretto), David Gaynor (Reading Blue Coat) and Tim Binder (Loretto).
Growing numbers of the schools with their own golf academies and teams – currently estimated at around 90 in the UK – are developing pupils' playing skills by opting for warm weather winter training in south-east Spain.
One of the most popular destinations for golf training camps for schools is Desert Springs, Europe's only international award-winning luxury family resort and championship desert golf course in the Almeria region of south-east Spain.
Visiting groups have included golfing pupils from Reading Blue Coat School at Sonning-on-Thames, King Edward's School in Bath and Loretto School at Musselburgh near Edinburgh.
This year players from Loretto School visited for the third year running and competed with pupils from Reading Blue Coat School in the third Schools European Golf Championship. The annual tournament is organised by Tewkesbury-based sports travel specialist Gullivers which booked flights and co-ordinated arrangements for the four-day visit.
Says Simon Coaker, director of golf at Desert Springs: "From the start of their 36 hole Medal Play over two days, the 28 players – 22 from Loretto and six from Reading Blue Coat – realised that this was to be a stern test of their skills and ability, but they thoroughly enjoyed playing on the Desert Springs golf course.
"Both schools fielded some big hitters but it was 13-year-old Alexander Wilson from Loretto who set the pace early, proving that as long as you are accurate, distance is not a key factor if you want to shoot a good score."
Despite a good come back from the lower handicapped players in the final round, Alexander held his nerve to become the 2009 champion winning by four shots with a total score of 153. George Maxted (15) from Reading Blue Coat School was the runner up scoring 157.
In the team event it was Loretto's Finbar Dalton (13), Florian Keller (17) and Edward White (13) who came through to win with an impressive 206 Stableford points accumulated over two rounds.
In addition to playing on the resort's 18-hole Indiana golf course designed by former Great Britain and Ireland Golf Captain Peter McEvoy, pupils were able to benefit from one-to-one tuition in the resort's Golf Academy.
Accommodation for the Loretto and Reading Blue Coat pupils and staff was in the apartments available for holidays and short breaks at Desert Springs. Meals were served in the resort's Croc Restaurant, part of the family-friendly Crocodile Club geared up for a wide variety of leisure activities.
Loretto School's golf academy assistant, mathematics master Kevin Reid, says that pupils who are golfers – including the 32 boys and eight girls aged between 12 and 18 who are in the golf academy – tend to mature earlier.
"Their willingness to play hard often is reflected in a similar approach to their studies," he said.
Golf was added to Loretto's curriculum when the golf academy was set up with a handful of students in 2003.
"We are now full at 40 with projected numbers of 50 from September, 2009," reports Mr Reid. "We are very much the market leader in the UK and this is reflected in our recent results. The school does not just play matches, we compete in the ISGA tournaments (Independent Schools Golf Association) with numerous team and individual successes during the three years since it was set up). We also compete in the HMC Foursomes tournament and during tours throughout the world to compete in school events."
Since opting for warm weather training at Desert Springs three years ago, the school has chalked up a marked increase in the number of games it has played against others across the UK.
Training at Desert Springs for pupils was the brainchild of Loretto's director of golf, Rick Valentine, the golf professional grandson of one of Scotland's most dominant figures in women's golf for two decades, Jessie Valentine, who was dubbed Queen of Golf in 1958.
The Reading Blue Coat School has 40 golf-playing pupils aged between 11 and 18. Their events calendar includes the International Golf Tournament at Sun City in South Africa as well as regular HMC Foursomes. The dedication of Reading Blue Coat's golfing pupils means that many of them have gone on to pursue the sport at university, notably in Birmingham, St Andrews and the USA.
Says Reading Blue Coat School's director of Lower School studies, Jon Bruce, who selects and coaches the pupils who represent it at golf: "Playing in the warm weather at Desert Springs offered me an alternative venue to help maintain the enthusiasm of the school's golfers while providing a valuable opportunity to compete prior to the Regional HMC foursomes semi-final against Seaford College.
Mr Bruce, who describes the facilities at Desert Springs as "excellent," reports that plans are in hand for a biennial fixture in the resort.
All school golf trips to Desert Springs are bespoke. If desired, the programme can include time away from the golf course for some local sightseeing in what many regard as 'the real Spain.'
During their stay pupils have opportunities to swim, play tennis and use the gymnasium, trim trail, jogging tracks, paddle tennis and beach volley ball courts.
Desert Springs is easy to reach from the UK, thanks to three international airports. They are: Almeria Airport, around 40 minutes away by road; Murcia Airport, 80 minutes by car on the new toll motorway direct to the Almanzora Valley (the toll is €11.5), and Alicante Airport which is less than two hours by road. Airlines currently flying to the region from the UK include easyJet, Monarch, Ryanair, Jet2, Jetair Fly and Thomas Cook.
Already well-known as a resort specialising in family holidays, Desert Springs is gaining popularity as a centre for warm-weather training for cricketers and footballers, as well as golfers.
The dates of the next Schools Golf Tournament at Desert Springs are February 25 to 28, 2010.
For details of training camps, sporting breaks – including three-day tuition packages with a professional, some including health and beauty treatments in the Day Spa – and family holidays, call the Cheltenham-based Almanzora Group
Email: tag@almanzora.co.uk
Telephone: +44 (0) 1242 680 299