Having already completed their ten (10) day Pre-Season training camp at the Desert Springs Cricket Academy between 22nd February – 3rd March, and with the domestic cricket season drawing ever closer, Sussex County Cricket Club stepped up their preparations for their 2016 campaign by completing a three (3) day pre-season 'Strategy & Planning' Camp between Sunday 20th & Wednesday 23rd March at Desert Springs Resort, Europe's only international award-winning luxury family resort and championship desert golf course, in the Almanzora region of Almeria, Andalucía in south-east Spain.
Whilst during the pre-season training camp the squad spent their time completing numerous training sessions each day, which included net practice, both bowling and batting, strength work, running, speed and agility work and fielding and throwing practice, the purpose of the return visit was for the players and staff to enjoy some downtime, relax and enjoy themselves and to strategize prior to the season ahead.
Mark Davis, Sussex CCC Head Coach and his team of nine (9) staff accompanied nineteen (19) players whose schedule included; light fielding sessions at the Desert Springs Cricket Academy, a football match, strength and conditioning sessions at the gym, a 'Quiz-Night' at the Private Reserve and class room sessions at the resorts Crocodile Club, specifically working on strategy and planning for the forthcoming cricket season.
The players and staff also experienced a round of golf on the Championship Indiana course and rounded off their stay with a BBQ at the Crocodile Club restaurant.
Mark Davis who made his Sussex debut in 2001 and took 188 wickets with his off-spin and made over 2000 runs across all three formats, commented:
"This was our second visit to Desert Springs for 2016.
Whilst our first visit was very much purely focused on all things cricket, this visit was more of a strategy and planning long weekend to fully prepare for the season ahead, alongside some downtime for the players and staff to relax and enjoy themselves.
The Crocodile Club was absolutely perfect for us to be able to lock ourselves away as a team and spend some quality time together.
The golf day was enjoyed by everyone and the BBQ again held at the Crocodile Club was a great way to end the trip.
Thank you to all of the staff and we look forward to seeing you next year."
To view a video of the Desert Springs Cricket Academy view: – Desert Springs Cricket Academy
The players and coaches were accommodated in some of the privately owned Apartments & Townhouses normally reserved for holidays and short breaks at Desert Springs and the resort's executive chef was on hand to cater for the special dietary requirements of individual players dining in El Torrente Restaurant.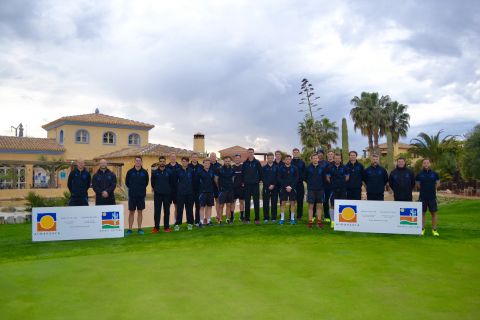 Sussex County Cricket Club Staff & Players Pre-Season 'Strategy & Planning' Camp at Desert Springs Resort