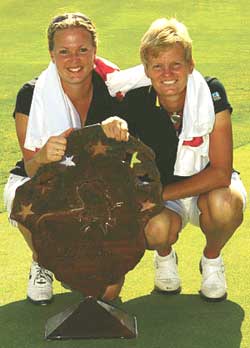 Rebecca Hudson (Left) & Trish Johnson (Right) with the 2008 VCI European Ladies Golf Cup
Desert Springs' tournament professional Trish Johnson, alongside Rebecca Hudson, led England to a five-stroke victory in the inaugural VCI European Ladies Golf Cup at La Sella Golf Resort near Alicante on Sunday.
The pair combined for rounds of 64, 70, 65 and 71 in the 72-hole competition to win on 18-under-par.
Belgium and Germany tied for second position on 13-under. Belgians Lara Tadiotto and Ellen Smets carded a final round of 71, while Germans Martina Eberl and Anja Monke fired an impressive 65.
The tournament featured four balls on days one and three, with "The Valencian Cup Format", a variation on greensomes, played on days two and four.
The English duo were five strokes clear of the field going into the final round, with the other 19 teams unable to catch them, despite a bold effort from Germany.
Belgium was their nearest challenger for much of the day, but Germany reached 14-under after 51 holes only to three-putt the last for a bogey.
Trish Johnson made a superb birdie putt from 25 feet at the par-four 15th to give the English team a three shot lead. Then Hudson almost holed in one with a seven-wood at the 185 yard 17th, allowing Johnson to dispatch a five-foot downhill putt for a two and a four stroke lead with one hole remaining.
Trish said: –
"We gelled perfectly and the two Belgian girls were absolutely fantastic. They deserve better than what they actually got in the end but they played great and they pushed us all the way."
Rebecca added:
"For me, I've just enjoyed the whole week and knowing that Trish was always going to be there or there abouts was just great."
Trish will now return to Desert Springs to complete her preparations for the forthcoming 'Open de Espana Femenino' between 17th –20th April, to be held at 'Panoramica Golf & Country Club'.
For further information contact: Christine Langford
E-mail: cl@almanzora.com
Telephone: +34 627 484 460