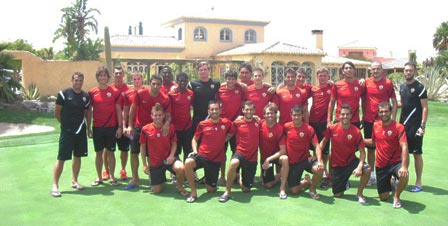 UD Almería Team 2012 Pre-Season Training Camp at Desert Springs Football Academy
A squad of 25 players and thirteen officials from Unión Deportiva Almería (Almeria Football Club) – which currently competes in Liga Adelante (Spanish Division Two) returned to the Desert Springs Resort for the second consecutive year to enjoy the facilities of the Desert Springs Football Academy for their pre-season training camp between Monday 23rd – Tuesday 31st July.
UD Almería Manager, Javi Gracia
Speaking of the teams experience at Desert Springs, The Club's new Manager, Javi Gracia remarked:
"I knew that UD Almería had already used Desert Springs last year, and as we have repeated this year, then something must be working well!
The playing surface and thickness of the grass was just perfect, and the daily assistance of the maintenance crew has made a difference.
Our accommodation at the community of Las Sierras was very quiet and convenient for us, providing a lot of privacy with no disruptions.
The Food and Beverage
was perfect; all of the dietary requirements were followed strictly, the food was ready on time every day, the quality was phenomenal, the Resort staff
were fantastic and we have felt very well attended.
I have been very comfortable at Desert Springs and would certainly consider it for a future Pre-Season Training Camp. Other Resorts may have more pitches, but at Desert Springs we are not forced to train at certain times and we feel very welcome.
The players seem to be very comfortable and they take it for granted that we will be back!"
UD Almería Team working out at the Sierra Sports & Fitness Club
During their stay, the Almeria players and officials were accommodated in some of the privately-owned apartments normally reserved for holidays and short breaks at Desert Springs and the resort's executive chef was on hand to cater for the special dietary requirements of individual players dining in the resort's two restaurants – the award-winning El Torrente and the Croc Restaurant, part of the family-friendly Crocodile Club.
UD Almería training at the Desert Springs Football Academy
Simon Coaker, sales and marketing manager at Desert Springs, remarked:
"Already well-known as a resort specializing in golf and family holidays, Desert Springs has been rapidly gaining, not only popularity, but also an excellent reputation as a centre for both warm-weather and pre-season football training within the footballing community. It is clear to see that with feed back such as this we can only expect to be host to more Club's in the near future."