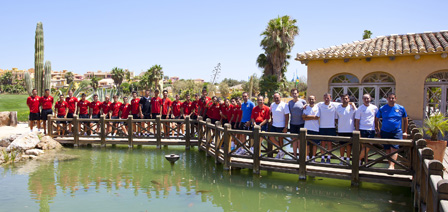 UD Almeria B Team 2013 Pre-season Training Camp at Desert Springs Football Academy
Following on from the success of their promotion last season to the Primera División (First Division) Union Deportiva Almeria (Almeria Football Club) selected Desert Springs Resort to be host once again to the pre-season training camp of their 'B' Squad between Monday 5th – Thursday 8th August.
A squad of 25 players and eight officials from Almeria Football Club spent three days at the resort for their training camp to benefit from the facilities of the renowned Football Academy established at Desert Springs.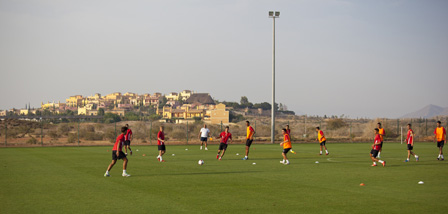 UD Almeria Training at Desert Springs Football Academy
Speaking of the teams experience at Desert Springs, Almeria Football Club Manager, Manuel Mendez and Head Coach Juna Carlos Cintas Góngora remarked:
"The football pitch at Desert Springs is 6 star; we will not play on a pitch of better quality throughout the season.
UD Almeria vs Club Athletico Pulpileno Pre-season Friendly Match at the Desert Springs Football Academy
Our resort accommodation at the community of Las Sierras was very comfortable and we found the sports facilities at the Sierra Sports & Fitness Club sufficient for the needs of our training camp. In their free time, some of the players ventured out to the Golf Academy to utilise the practice facilities and enjoyed themselves.
The Food and Beverage
was of excellent quality and was specifically just what the team required.
The Resort staff
were very professional and courteous and nothing was too much trouble for them.
In conclusion, Desert Springs Resort is a great location for a training camp. We have held training camps at other locations and all agree, including the players, that Desert Springs is of better quality!"
The training camp culminated with a pre-season friendly match at Desert Springs against Club Athlético Pulpileño with Almeria Football Club winning 6-0.
During their stay, the Almeria players and officials were accommodated in some of the privately-owned apartments normally reserved for holidays and short breaks at Desert Springs and the resort's executive chef was on hand to cater for the special dietary requirements of individual players dining in the resort's award-winning El Torrente Restaurant.
Simon Coaker, sales and marketing manager at Desert Springs, remarked:
"The promotion back to the First Division of Almeria Football Club is an immense achievement and it was extremely gratifying for the resort to be approached yet again by the Club with the request for Desert Springs to host this seasons pre-season training camp. It is clear to see that with feed back such as this we can only expect to be host to more Club's in the near future and judging by the result of the friendly pre-season match against Club Athlético Pulpileño, I believe that we can all agree that Almeria 'B' Team are well on their way to a successful season!"
For further information contact: The Almanzora Group
Tel: +44 (0) 1242 680 299
Email:
tag@almanzora.com