Two PGA Instructors and one official accompanied ten players from Warwickshire County Golf Union aged between 18 – 44 years for 4-days of warm weather pre-season winter training at the Desert Springs Resort between 23rd – 27th February.
The Warwickshire Union of Golf Clubs was founded in 1906, and represents 49 clubs within the County, providing knowledge and expertise to support them all.
The Warwickshire Union identifies existing talent and through its coaching program develops the next generation of Golfers to represent the County and beyond at a National Level.

Stuart Bloxham, Warwickshire County Golf Union Captain remarked;
"We have had a great time. Desert Springs is a fantastic venue for both practicing and playing. The facilities are superb and it's a great place to start your season off with.
The staff are very helpful and friendly and I would recommend Desert Springs for any groups coaching venue."
Tom Whitehouse, Warwickshire County Golf Union PGA Coach commented;
"Desert Springs is a great place for teams to practice, the facilities are great and the food is excellent. It is a great place to learn and maximize your potential."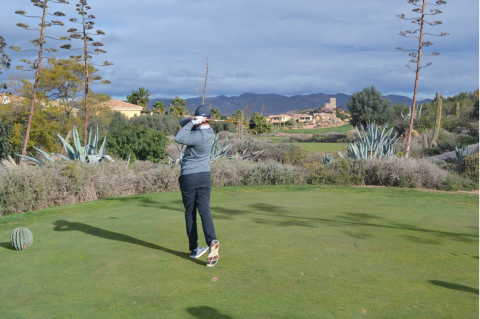 The training camp utilized the excellent practice facilities at the Desert Springs Golf Academy where the PGA Instructors were able provide one-to-one tuition and take advantage of the use of the Desert Springs short game academy prior to the players embarking on their rounds on The Indiana course.
Tom Ibbertson, Warwickshire County Golf Union team member, said of his experience at Desert Springs;
"Desert Springs delivers perfect facilities accompanied by a stern test, I can't wait to come back!"
The players and officials were accommodated in some of the privately owned apartments normally reserved for holidays and short breaks at Desert Springs and the resort's executive chef was on hand to cater for the special dietary requirements of individual players dining each evening in the 'El Torrente' Restaurant.
For further information on Warwickshire County Golf Union visit their official website.