Watford Grammar School for Boys (WGSB) have now returned to the UK after completing a successful five (5) day cricket training camp at Desert Springs Resort, Europe's only international award-winning luxury family resort and championship desert golf course with its very own dedicated Cricket Ground and Academy, in the Almanzora region of Almeria, Andalucía in south-east Spain.
Between Saturday 13th – Thursday 18th July, WGSB Head of Cricket Luke Samarasinghe assisted by Giles Wallis, Luke Jacobs and Frederic Roberti, accompanied twenty-six (26) players, aged between 14-16 years, who completed a carefully planned training programme that comprised grass net practice; both bowling and batting, strength and conditioning work, running, speed and agility work at the Cricket Academy, with open net match simulations and fielding drills taking place at the Cricket Ground.
Additionally, the players had the opportunity to put their practice into play when they competed in two T20 Matches at the Desert Springs Cricket Ground on Monday 15th July against a representative Desert Springs XI. WGSB were victorious in both matches!
WGSB Head of Cricket Luke Samarasinghe commented:
"The cricket facilities are excellent with great nets; cricket oval and bowling machine and the cricket games were very competitive."
WGSB School Director of Sport Giles Wallis commented: 
"The facilities are excellent, especially the cricket. Having a wicket for our own sessions, two nets and the use of bowling machine was great. The swimming pools are first class and the gym, rooms and food excellent."
WGSB players said of their training experience at Desert Springs Resort:
"The facilities were top class with the ground being maintained throughout. It was one of the best pitches I have ever played on. Would love to return again and I would recommend touring parties to visit here!"
James Folley, aged 16.
"A very good holiday. The Desert Springs staff were excellent and very kind, whenever they were asked a question they were always willing to help. Another good thing is that there were plenty of activities to do, such as driving range & football, the sports facilities were excellent, especially the cricket."
Kairu Edwards, aged 15
"I thoroughly enjoyed d my time at Desert Springs. The sports facilities are great, and it is not crowded in any areas, making it a more comfortable experience. Also the living conditions were excellent and encouraged independence."
Harrison Francis, aged 16
Accommodation for the players and coaches was in some of the privately-owned apartments at Desert Springs Resort normally reserved for holidays and short breaks and the resort's executive chef was on hand to cater for the special dietary requirements of individual players dining in the resort's Crocodile Club and El Torrente Restaurant.
To view the video of the Desert Springs Cricket Academy Click Here
For further information contact:
Nick Gaywood
+44 (0)7793 558 132
ng@desertspringscricket.com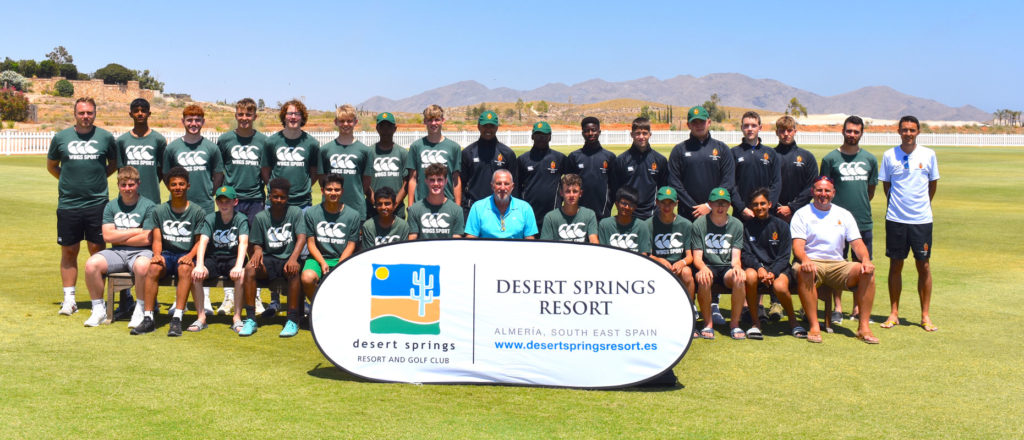 Watford Grammar School for Boys Training Camp at Desert Springs Cricket Ground & Academy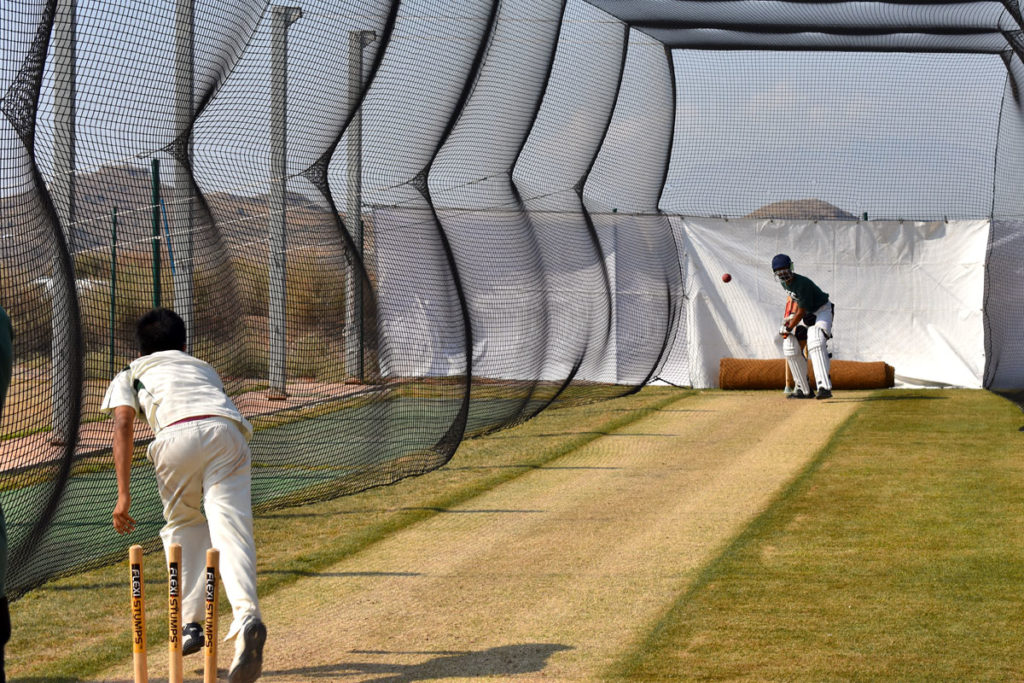 WGSB Grass Net Practice at the Desert Springs Cricket Academy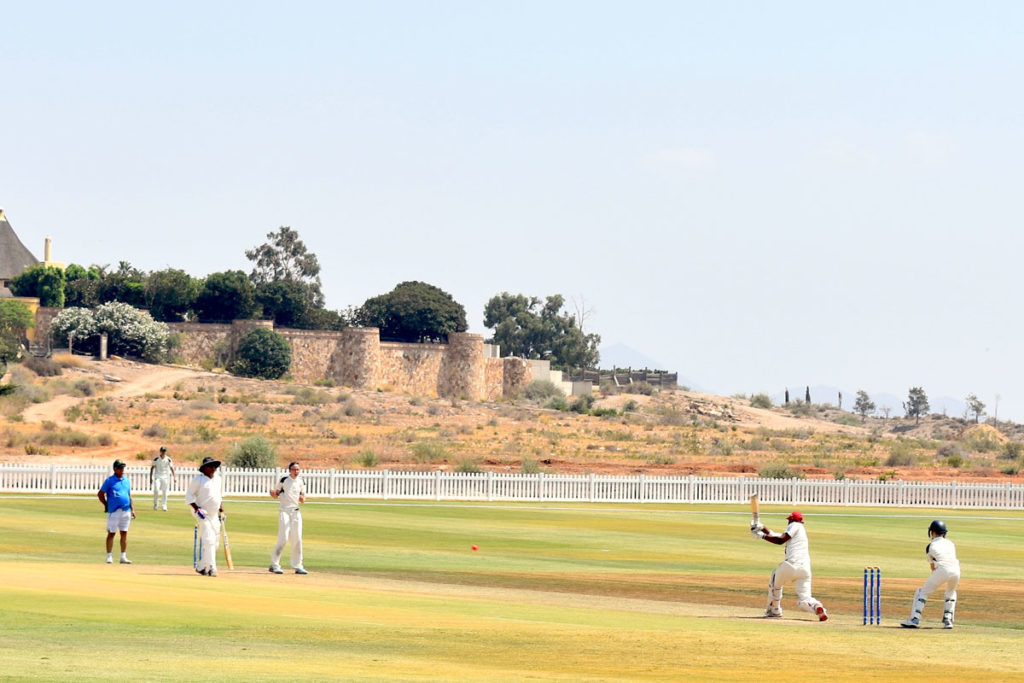 WGSB XI Competing against Desert Springs XI at the Desert Springs Cricket Ground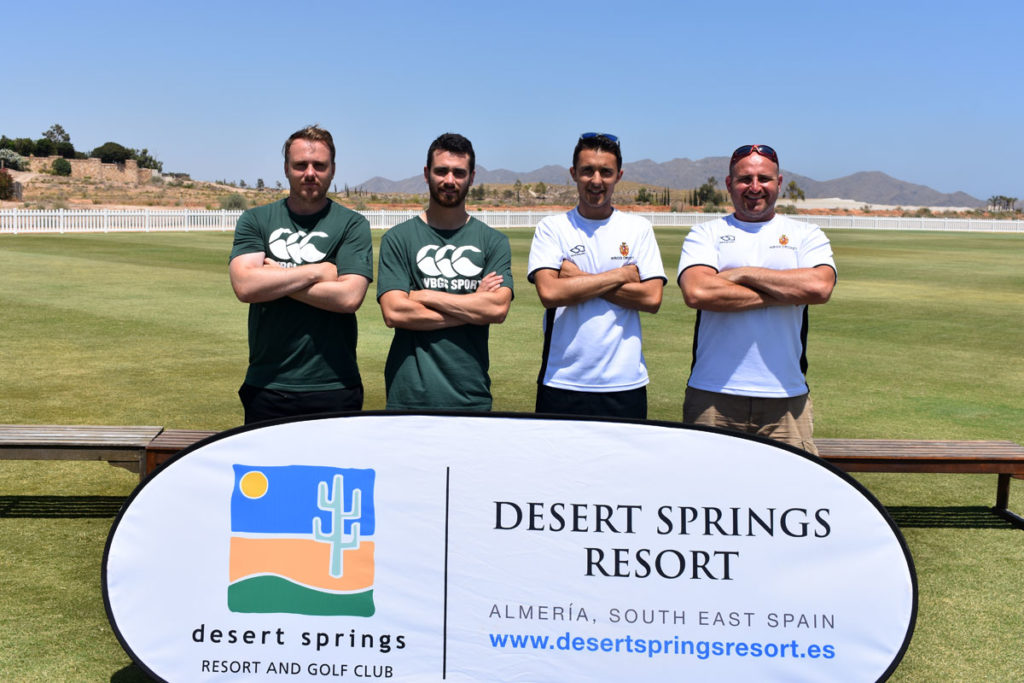 Watford for Boys Grammar School Head of Cricket Luke Samarasinghe assisted by Giles Wallis, Luke Jacobs and Frederic Roberti