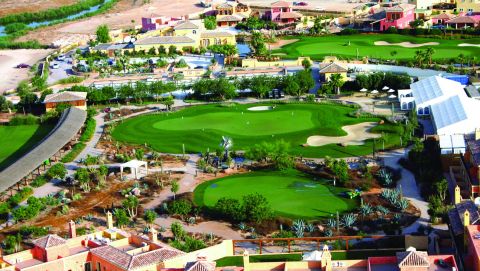 The Desert Springs Golf Academy facilities utilised by the attendees of the AimPoint conference to study a variety of putting strategies.
Desert Springs Resort was host to the AimPoint Golf European Instructors Conference between Tuesday 30th & Wednesday 31st October 2012.
A total of 15 AimPoint instructors from all over Europe assembled at the impressive Desert Springs Resort to join Aimpoint's European Instructor Jamie Donaldson and specialist speakers on all aspects of putting performance along with Mark Sweeney from the United States, owner, innovator and creator of AimPoint.
The conference utilised the excellent practice putting facility at the Desert Springs Golf Academy where the instructors were able to study a variety of putting strategies on perfect greens. The attendees also benefited from the use of the conference facilities available at the Private Reserve.
Aimpoint is the worlds leading innovative green reading instruction programme. Leading players and major winners who use the aimpoint technology in their daily playing and putting schedules include; Sir Nick Faldo, Justin Rose, Padraig Harrington, Stephen Ames, Hunter Haas, J.B. Holmes, Russell, Joe Ogilvie,
Henrik Stenson & Bo Van Pelt to name but a few.

Mark Sweeney pioneered the revolutionary green-reading method based on the highly accurate, Emmy Award winning AimPoint Technology as seen on the Golf Channel. After going through the AimPoint Green Reading education, players never again have to guess at how much a putt breaks. Players learn that putting is predictable and discover the most effective and reliable ways to determine the direction and precise amount of break for any putt.
Jamie Donaldson commented;
"AimPoint have been very impressed with the standard of the golf facility here at Desert Springs, coupled with the excellent restaurant and very good staff, we have all had a very positive and enjoyable stay."
Peter Ledwidge Aimpoint instructor from Palma Majorca remarked;
"Desert Springs was a perfect partner for the conference with everything in a central area of a very high standard."
Aimpoint have indicated a larger instructors conference will be scheduled to take place at the Desert Springs Resort in 2013.
Whether you're a professional golfer, caddie, junior, or amateur golfer, AimPoint Green Reading can transform your game by teaching you the one aspect of putting that is never taught–exactly where to aim.
For details of Corporate Golf Events, Golf & Sports Training Camps and Meetings at Desert Springs call 01242 680 116 or visit the website, www.almanzora.com
To find out more about the AimPoint visit the website www.aimpointgolf.com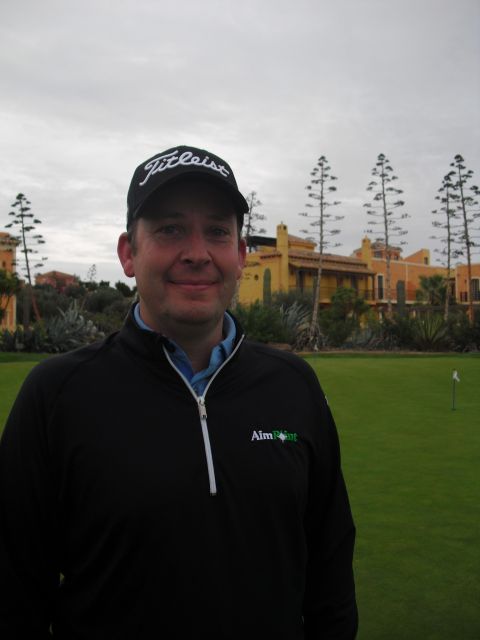 Aimpoint's European Instructor Jamie Donaldson
Reader Enquiries:
Simon Coaker
The Almanzora Group Ltd
The Manor, Boddington,
Cheltenham, Gloucestershire GL51 0TJ
Tel: +44 (0) 1242 680116
e: tag@almanzora.co.uk
www.almanzora.com