Fishing - Villaricos
Enjoy a great morning out fishing for all ages, from beginners and for the more experienced, any day of the week. Our local fisherman have many years experience and will even show you how to prepare the fish you catch the Spanish way!
Fishing as a sport is in its infancy in this previously un-touristy region, however, the fish are there!
Prices:
One whole morning fishing
85€ per person (minimum groups of four)
20€ deposit to be paid at Lodge Reception
Please book minimum three days in advance.
Book Now : (+34) 678 679 387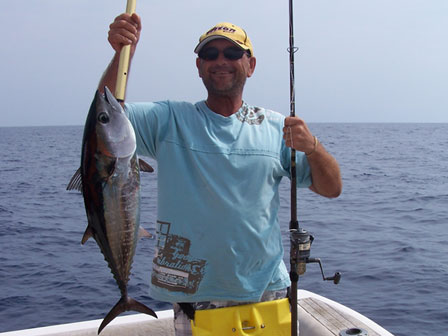 Scuba Diving - Villaricos
Villaricos has two scuba diving operations, which reflects its special diving qualities, with exceptionally clear warm waters, creating good visibility and the opportunity to see unusual and some unique species.
There are also several interesting structures, including the underwater cavern of La Catedral and the remains of the old loading structures from Villaricos's mining past, now submerged off the village.
Molasub are based in the small Esperanza Harbour in Villaricos. Affiliated with the Proffesional Association of Diving Instructors (PADI) for diving trips; including introductional/discovery, open water and dive master courses.
Full equipment hire is also available.
Book Now : (+34) 678 679 387
Sea Trips - Villaricos
Boat trips along the coast of Villaricos
We offer boat trips around the Villaricos coast with 'Cruceros de Villaricos' on their glass bottom boat, PANORAMIC-7. The glass bottom allows you to view the wonderful seabed with its meadows of Posidonia oceanica (also known as Neptune Grass or Mediterranean tapeweed). The boat trip includes a visit to each of the sponges and green coves, and a tour of submerged shipwrecks. You will get a great view of the fish and there is a possibility that you may even see some dolphins.
After your trip, you are provided with the opportunity to taste from a wide range of different fish and local delicacies.
Book Now : (+34) 678 679 387
IMPORTANT NOTE: Desert Springs Resort can arrange activities on your behalf, but does not accept any responsibility for any risk, liability, damage or any other consequence resulting from the carrying out of this activity.