The Indiana Course
Inspired by the famous desert courses of Arizona & California, the par 72 international championship Indiana course is the first desert course in Europe and has been built to full USGA specifications.
Situated in one of the most tranquil and sought-after enclaves of the Andalucía coast, imagine a luxury golf retreat set amongst massive rocky outcrops, arroyos and dry rivers with emerald green fairways nestled within a luxury estate surrounded by undisturbed nature within the largest cactus garden in Europe, with spectacular views of landmark mountain ranges and the Mediterranean Sea.
Course designer Peter McEvoy
"We have created a course which really can be enjoyed by players of all different standards, we have kept the fairways generous and ensured that the less expert player can enjoy and improve his game whilst absorbing the awesome landscape and views that encompass The Indiana.
On the other hand, every hole has features which can be brought into play; the springs, watercourses, dry river beds, rock and cactus areas and bunkers are strategically located to examine the skills of golf's leading players when playing off the championship tees."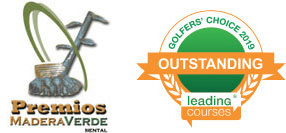 The Golfers Opinion
Hole by Hole Video Analysis
Ryder Cup player's opinions of the Indiana Course at Desert Springs
Ian Woosnam OBE
Ryder Cup 1983-1997, Winning Captain 2006, US PGA Masters Winner 1991, No 1 in World Golf Rankings 1991, World Match Play Winner 1987, 1990, 2001, World Cup, 1989, PGA Grand Slam of Golf, 1991, 29 European Tour Wins
"Having last been here in 2004, the first thing I noticed was how mature the landscaping had become. It's a course that provides you with a test for every shot you have in your bag. The course is in immaculate condition with greens of equal quality to those we play our own tour events on. If you want to hone your game, immaterial of what standard of golfer you are, then this is the place to come!"
Steve Richardson
Ryder Cup 1991, Alfred Dunhill Cup 1991 & Winner 1992, World Cup 1991 & 1992, Four Tours World Championship Winner 1991 & 1992
"Desert Springs is a very stimulating test of golf. It is a thinking mans course, not easy to overpower but one that requires excellent course management skills. I really enjoyed it and felt it tested my skills fully".
Paul Way
Ryder Cup 1983 & Winner 1985, Dutch Open Champion 1982, British PGA Champion 1985, and European Open Champion 1987
"I actually found myself hitting my driver a lot at Desert Springs. It is a course that demands accuracy and thought but it does allow you to attack and make birdies. I found it a superb looking course and in top class international condition. It is a genuine test".
Peter Baker
Ryder Cup 1993, Ryder Cup Vice Captain 2006, Alfred Dunhill Cup 1993 & 1998, World Cup 1998, Benson & Hedges International Open Champion 1988, Dunhill British Masters 1993
" Loved the course; a proper shot making course. I made loads of birdies, which was great, but I got penalised for bad shots. That's the way the best courses treat you. One of the most refreshing courses I've played in along time and one I look forward to re-visiting, I don't think it would ever be boring".
What our Golf Camp Clients have to say -