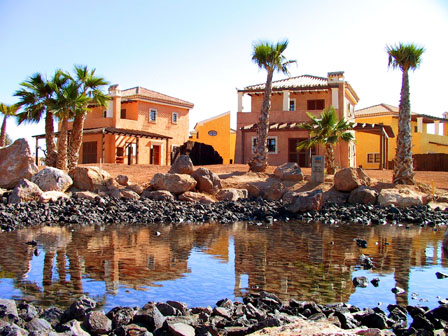 Cottages at Desert Springs which are similar in style to the property bought by Allan and Shirley Deeson of North Queensferry in Fife, Scotland.
A couple from Fife in Scotland were among early buyers of the cottage homes which are proving popular at Desert Springs.
Built in a style said to be unique in the new homes market, the cottages are based on the design of the traditional rectangular field houses – Casas del Campo – found in the Almanzora Valley in south-east Spain.
For retired North Queensferry hotelier Allan Deeson (62) and his wife Shirley, Desert Springs was the perfect place to buy a holiday home.
"Unlike many of the Spanish developments we looked at, Desert Springs is in a relatively undeveloped area with a feeling of 'the original Spain' about it," says Allan. "What's more, it's easy to get there and the year-round climate is great."
He and Shirley are keen golfers and they were attracted by the way in which they can walk the 72 par 18-hole USGA Indiana golf course at Desert Springs, designed by former Great Britain and Ireland Golf Team Captain Peter McEvoy.
"There is no need to use a golf buggy and, at our age, regular exercise is particularly important," Allan explains.
The couple used a Spanish mortgage to fund the €194,000 purchase of their four-bedroom property in 2002. Since then they have seen its value rise substantially; today comparable properties at Desert Springs are selling for around €500,000."
The purchase price included membership of the golf club and this was another factor in the couple's decision to buy. Now they spend around 14 weeks of the year in their Spanish home, avoiding the worst of Britain's winter weather.
"As it's just the two of us, we have converted the four bedrooms into two spacious ones," says Allan.
Cottages at Desert Springs have been planned to meet the requirements of twenty-first century home-owners, albeit in a rustic style with features like old Spanish style joinery, cottage fireplaces and tiled, as well as natural timber beams and traditional tiling.
The prices of the cottages available from The Almanzora Group currently range from €350,000 to €550,000. Prices include Resort Non-resident joining fees for golf club membership which is worth more than €30,000.
For more details call The Almanzora Group, which also arranges inspection visits, on telephone +44 (0) 1242 680 299 or visit the website, www.almanzora.com
For further information contact: Tim Stanley
E-mail: tim@timstanleypr.co.uk
Telephone: +44 (0) 117 962 5658