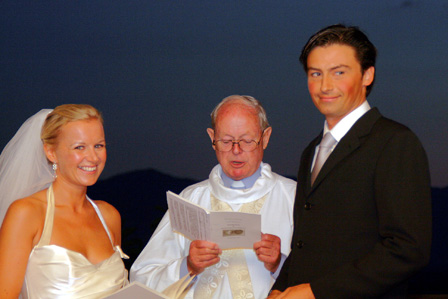 Annabel Grove and Daniel Di Domenico are blessed at Desert Springs by Annabel's grandfather, the Reverend Julian Dawes.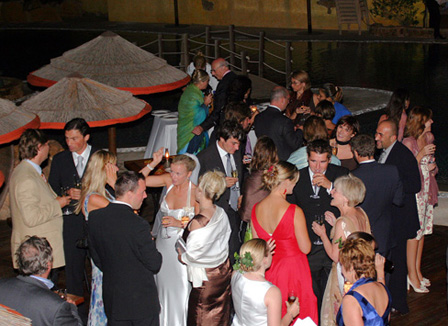 Pictured at the Crocodile Club, the bride and groom enjoy poolside drinks with their guests in the warm evening air.
The Crocodlie Club at Desert Springs; growing in popularity as the venue for big family celebrations, including weddings.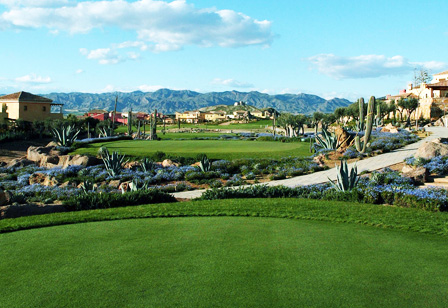 The beauty of Desert Springs in the Almeria region of south east Spain.
POPULAR SPANISH LOCATION MEANS A WEDDING IN THE SUN BECOMES A FOUR-DAY HOLIDAY
A chapel which can be used for weddings, christenings and other services could feature on future plans for Desert Springs, Europe's only international award-winning luxury desert leisure resort and championship golf course located in the Almeria region of Spain.
"The popularity of Desert Springs for the celebration of big family events like these is growing, and a consecrated inter-denominational chapel would complete our ambition to provide everything families need," says Bridget Rosser, sales and marketing manager of The Almanzora Group which is the main overseas agent for properties at Desert Springs.
Meanwhile, even without the chapel, the resort is proving to be a popular choice of venue for wedding celebrations.
Among couples who did just that are Annabel Grove (31), previously of Cheltenham in Gloucestershire, and her Italian fiancé Daniel Di Domenico (34) who lives just outside Rome.
Having enjoyed family holidays there in the past, they saw Desert Springs as the ideal place for a wedding reception which became what Annabel's mother, Lone, describes as "a four-day party."
Lone's father, the Reverend Julian Dawes – a retired vicar now living in Rewe near Exeter in Devon – performed an open-air evening wedding blessing ceremony on the Observation Terrace of the Crocodile Club. The club is located at the heart of the Desert Springs resort in an authentic African longhouse thatched with reed from Africa.
"As the sun set, the blessing was lit by romantic candle-light," recalls Lone. "Then local Spanish dancers entertained us as we enjoyed poolside drinks in the warm evening air. The wedding supper inside the atmospheric longhouse was followed by dancing in the Rondavel at the Crocodile Club."
Annabel, who works with the UN's World Food Programme, and Daniel, who runs an antique business in Rome, agreed that, although Italy currently is considered one of the most desirable locations to host a wedding, the Almanzora region of Almeria was the perfect location for them.
Says Annabel: "Desert Springs was able to cater for all our unusual requirements, helping us to create a romantic candlelit service conducted by my grandfather against the backdrop of a glorious sunset.
"Staff at Desert Springs were very accommodating, helping us to decide on wedding supper menus during a dinner party with friends earlier in the year. The chefs were open to all sorts of suggestions about food from different cultures.
"When it came to floral decorations, we chose cacti displays with mini cacti as wedding favours – after all, this is a desert resort!"
Daniel's fears that there might be problems finding enough local accommodation for more than 60 wedding guests travelling from Italy and the UK were unfounded.
He says: "Not only was Desert Springs able to take care of all of them in its Lodge accommodation – individual luxury villas and apartments on the resort – but the region's special year-round climate meant that the organisers were more or less able to guarantee warm dry weather. Although situated on the Spanish coast, the region is uniquely influenced by the North African desert conditions just across the Mediterranean.
"Those who attended the wedding really enjoyed the fact that they could make a mini-holiday of their weekend in a luxury resort. Friends have commented that, contrary to the typical one-day event, the weekend together meant everybody was involved in the wedding on a more personal basis."
Weddings, blessings and other celebrations at Desert Springs are planned on a bespoke basis so the costs involved depend on requirements, guest numbers and the number of properties required to accommodate them. In addition, careful planning with the resort's personal events co-ordinator means that a lot of fun can be added to a celebration at relatively little cost.
For more details contact The Almanzora Group – telephone +44 (0) 1242 680 116, www.almanzora.com – which can also provide details of the properties for sale in the resort. They range from apartments, townhouses and cottages to villas and country houses. Prices start at around £170,000 for an apartment, rising to around £980,000 for a spacious country house.
Desert Springs – in brief:
AIRPORTS:

Almeria: 50 minutes by road.
Murcia: 70 minutes by toll road (toll 11.5€).
Alicante: 120 mins by road.

FLIGHT TIME:

Around two-and-a-half hours from London.

CLIMATE:

Desert climate – unique in Europe – with the driest, sunniest and warmest winter weather on the continent. Annual average of more than nine hours of daily sunshine. Maximum daily temperatures of between 16°C (60°F) and 30°C (86°F) throughout the year. Annual rainfall less than 200 mm.

BEACH:

10 minutes away at Playa Marques.

RESTAURANTS & BARS:

Four of each.

GOLF:

Championship 18-hole golf course – designed by Peter McEvoy and twice host of the Spanish International Amateur Open – golf club house, caddy master's pavilion and bag drop service, mid-course 'watering hole'. Planning consent in hand for second golf course.

GOLF ACADEMY:

Winter training home of the Ladies Golf Union and several international & UK County Union teams. Driving range, video analysis, chipping & putting greens.

FACILITIES:

Crocodile Club including swimming and jacuzzi pools and sun lawns, kids pool, equipped sand play bunkers, kick around area with basket ball, kids self-propelled ride-on gator circuit, video games room & tea house.

Sierra Sports & Fitness Club including international size football pitch, tennis, paddle & beach volley courts, gymnasium, jogging track & trim trail, cricket practice facilities & equipment.

Tiburon, Sweetwater & Steamboat Lakes for fishing & water sports.

The Private Reserve including The Elemis Day Spa, Sauna & Fitness Suite, private work-out area, billiards room, private film screening room, private dining & tapas bodegas, and al fresco dining terrace.

Boutique, golf & pool shops & micro-market.

ACTIVITIES:

Adults, youth and children's Sports & Fitness programmes.
Golf lessons for beginners through to professionals.
Equitation & trail riding off-resort.
Scuba diving, tuna fishing & boat trips off-resort
Cultural & social events on & off-resort, including excursions.
Civil weddings, receptions, first communion parties, anniversaries, celebrations.
Corporate & sporting days & events, board & company meetings.

AWARDS, TROPHIES & PRIZES:

DEVELOPMENT:
2005: The Bentley International Homes Award for Best Spain Development
2005: The Daily Mail Best Almeria Development Award
ARCHITECTURE:
2005: The Bentley International Homes Award for Best Architecture
ENVIRONMENT:
2006: The Spanish National Madera Verde Prize for Environmental Sensitivity
TOURISM:
2006: The Castillo de Cuevas Award for Services to Tourism
LANDSCAPE:
2007: The New Homes Gardens Gold Medal for Best Overseas Landscape
GASTRONOMY:
2007: The Trade Leaders Club New Millennium Trophy for El Torrente Restaurant
IMPORTANT NOTE
To avoid confusion, please note that this document refers to two organisations with names which are similar but different. They are The Almanzora Bay Group [THE DEVELOPER] and The Almanzora Group Ltd [THE AGENT].
The Almanzora Bay Group, named after the Almanzora region of Eastern Andalucia where it has been active since 1985, is an Anglo-Spanish sister group to the award-winning Cheltenham-based developer, the Robert Hitchins Group. Established in 1958, the Robert Hitchins Group specialises in large-scale strategic land planning and commercial development in the West of England and South Wales.
The Almanzora Group, which is a subsidiary of the Robert Hitchins Group, is the main European sales agent and acts exclusively for the development companies which comprise the Almanzora Bay Group, marketing new properties developed by The Almanzora Bay Group in resort, village and beach locations.
Please note that none of the above have any connection with the
Spanish development known as The Almanzora Country Club.
For further information contact: Tim Stanley
E-mail: tim@timstanleypr.co.uk
Telephone: +44 (0) 117 9625658