18th Hole Men's Tee Extension
Dear Member / Property Owner,
Whilst the golf course, the landscaping, the fencing and netting is laid out to prevent the most badly hit golf balls coming into properties, no golf frontage property can be totally immune. Nevertheless, where neccesary the Club continues to evolve the landscaping and layout to discourage such shots.
Despite the historic and extensive introduction of landscaping measures previously undertaken both around the 18th Hole tee complex and to the right-hand side of the fairway, through either a poorly hit tee shot or more so as a consequence of a player attempting to hit over the properties to the green approach, has resulted in an unacceptable number of balls causing damage to property.
Consequently, after a study and review of Hole 18 it has been decided to extend the right-hand side of the Men's tee on hole 18 by four metres, as a further preventative measure against golf balls entering properties located on the right-hand side of the hole.
This will make the tee approximately 45 m2 larger, and by keeping the tee markers to this extended area the angle to carry the properties will, as a consequence of the large palm trees located in front of the ladies tee, effectively be shut down.  This angle will also encourage players to hit the ball further to the left side of the centre of the fairway, providing an added benefit by affording the player a better angle of approach to the green for their second shot.
Below is an outline of the steps our golf course maintenance team shall undertake for the completion of the tee extension due to commence on Monday 4th July, with an anticipated completion date of Monday 18th July.
Add base material and fill to create and shape the base of the tee and laser level of the tee surface.
Install new irrigation lines and adjust the location of the sprinkler heads
Remove existing turf grass form the edge of the tee where the tie in will be made to the existing tee
Install root zone by adding 20cm of a sand/peat moss mix
Laser level sand tee surface
Apply fertilizer
Lay sod, top dress and roll
Once the tee is completed and the new turf grass is established, install railroad steps and boulders
Whilst the scheduled works are being undertaken, the Men's tee shall be temporarily relocated to the Ladies Tee.
For tournament play of the Desert Springs Medford scheduled for Saturday 9th July, play for Men shall revert to the original Men's tee for the competition round.
Once works have been completed, the original part of the Men's tee shall be reopened whilst the new extended tee is grown in.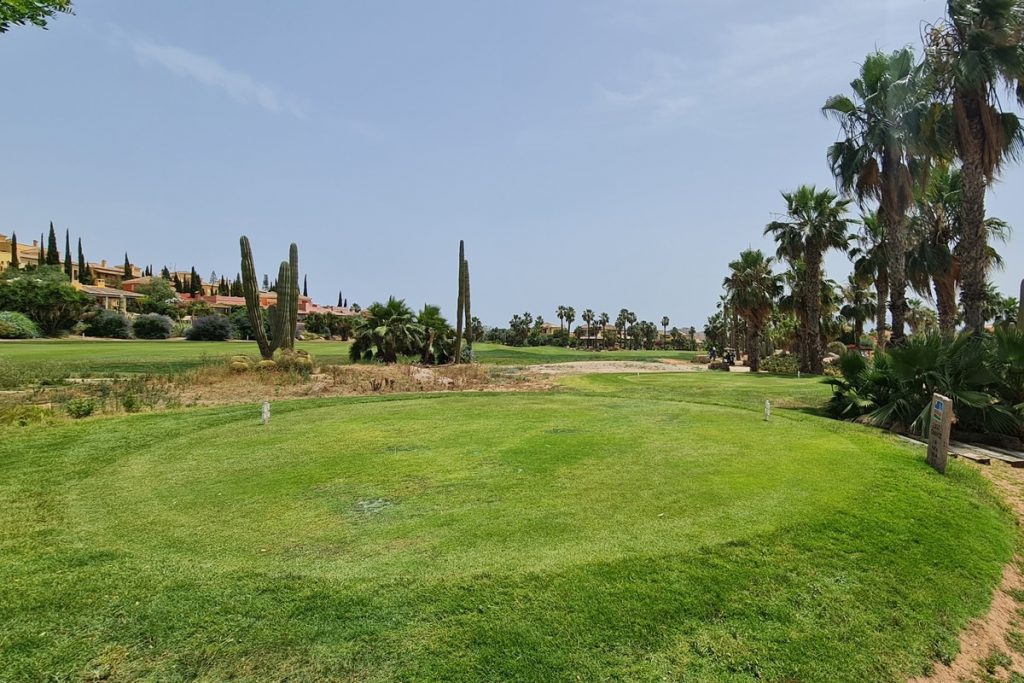 Hole 18 – Men's Tee