The 2014 World Amateur Team Disabled Golf Champions, The Swedish National Amateur Disabled Golf Team, are now back in Sweden having completed a successful seven (7) days of warm weather training between Sunday 27th & Sunday 3rd April at Desert Springs Resort, Europe's only international award-winning luxury family resort and championship desert golf course, in the Almanzora region of Almeria, Andalucía in south-east Spain.
During their time at the resort the players utilised the excellent practice facilities at the Golf Academy and played the Championship Indiana course.
Daniel Stark, Coach to The Swedish National Amateur Disabled Golf Team remarked:
"This was our second visit to Desert Springs Resort and we couldn't be happier!
The service is sensational and we are looked after so well that it really does feel like home, apart from the weather here which is perfect.
See you next year for sure!"
Squad members commented of their experience at Desert Springs Resort;
"Weather perfect, golf course perfect, food perfect, service perfect, thank you!" Marcos Malo
Another great stay at Desert Springs Resort and we are made to feel so welcome here, see you next year." Filip Lindkvist
"What a stunning resort, I can't wait to come back next year!" Niklas Viktor
"Thank you to all of the staff for another wonderful stay!" Kristoffer Eklund
"Fantastic facilities for both practice and play with impeccable service, many thanks!"Joakim Bjorkman
"A real desert experience, so different to winter golf in Sweden!" Jonas Andersson
Held biannually, The 'World Amateur Disabled Golf Team Championship' is a 54-hole stroke play event with rules equivalent to the Eisenhower Trophy, however with the 'Modification of Rules of Golf for Golfers with Disabilities'. Team Selection and Eligibility decrees that players must be a representative of their countries Disabled Golf Association i.e. Europe- EDGA, USA-NAGA, Canada-CAGA and Japan-CAGA
Physically disabled players selected by their country, with an official Handicap of 11.4 and below (18 and below for women) are eligible to participate. A team consists of four players from each country, with the best three scores each day counting toward the team score. At the completion of 54 holes, the team with the lowest score is declared the Champion.
The players and officials where accommodated in one of the privately owned Country Villas normally reserved for holidays and short breaks at Desert Springs and the resort's executive chef was on hand to cater for the special dietary requirements of individual players dining in the award-winning El Torrente Restaurant.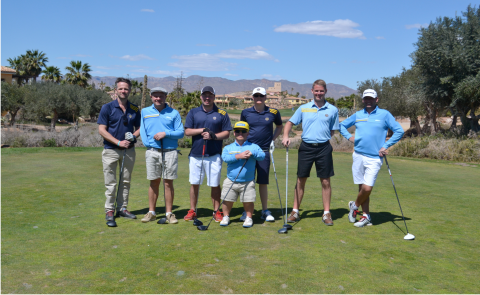 2014 World Amateur Team Disabled Golf Champions from Left to Right: Filip Lindkvist, Marcus Malo, Kristoffer Eklund, Joakim Bjorkman, Niklas Viktor, Jonas Andersson, Daniel Stark (Coach) attending the Winter Training Camp at Desert Springs Resort