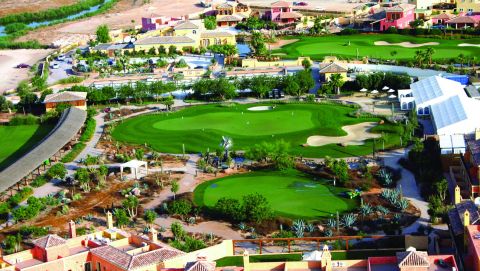 The Desert Springs Golf Academy facilities utilised by the attendees of the AimPoint conference to study a variety of putting strategies.
Desert Springs Resort was host to the AimPoint Golf European Instructors Conference between Tuesday 30th & Wednesday 31st October 2012.
A total of 15 AimPoint instructors from all over Europe assembled at the impressive Desert Springs Resort to join Aimpoint's European Instructor Jamie Donaldson and specialist speakers on all aspects of putting performance along with Mark Sweeney from the United States, owner, innovator and creator of AimPoint.
The conference utilised the excellent practice putting facility at the Desert Springs Golf Academy where the instructors were able to study a variety of putting strategies on perfect greens. The attendees also benefited from the use of the conference facilities available at the Private Reserve.
Aimpoint is the worlds leading innovative green reading instruction programme. Leading players and major winners who use the aimpoint technology in their daily playing and putting schedules include; Sir Nick Faldo, Justin Rose, Padraig Harrington, Stephen Ames, Hunter Haas, J.B. Holmes, Russell, Joe Ogilvie,
Henrik Stenson & Bo Van Pelt to name but a few.

Mark Sweeney pioneered the revolutionary green-reading method based on the highly accurate, Emmy Award winning AimPoint Technology as seen on the Golf Channel. After going through the AimPoint Green Reading education, players never again have to guess at how much a putt breaks. Players learn that putting is predictable and discover the most effective and reliable ways to determine the direction and precise amount of break for any putt.
Jamie Donaldson commented;
"AimPoint have been very impressed with the standard of the golf facility here at Desert Springs, coupled with the excellent restaurant and very good staff, we have all had a very positive and enjoyable stay."
Peter Ledwidge Aimpoint instructor from Palma Majorca remarked;
"Desert Springs was a perfect partner for the conference with everything in a central area of a very high standard."
Aimpoint have indicated a larger instructors conference will be scheduled to take place at the Desert Springs Resort in 2013.
Whether you're a professional golfer, caddie, junior, or amateur golfer, AimPoint Green Reading can transform your game by teaching you the one aspect of putting that is never taught–exactly where to aim.
For details of Corporate Golf Events, Golf & Sports Training Camps and Meetings at Desert Springs call 01242 680 116 or visit the website, www.almanzora.com
To find out more about the AimPoint visit the website www.aimpointgolf.com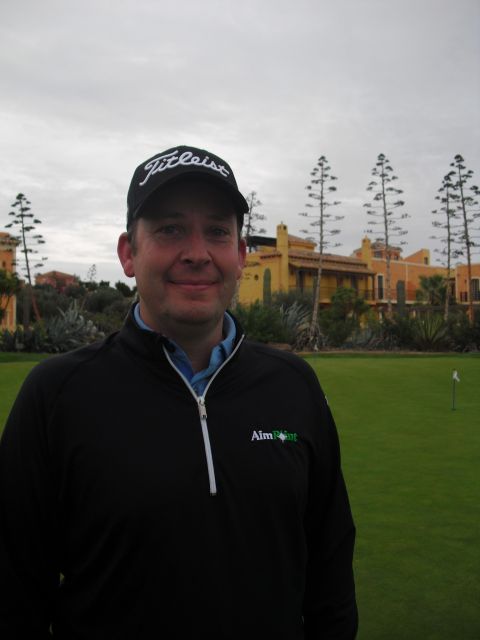 Aimpoint's European Instructor Jamie Donaldson
Additional Background Information
The Desert Springs Resort & Golf Club
Facilities already completed and in use at Desert Springs include:
a 72 par 18-hole USGA Indiana golf course designed by former Great Britain and Ireland Golf Team Captain Peter McEvoy who was inspired by the desert courses of Arizona and California;
a golf academy whose PGA qualified teaching professionals cater for several international teams, for the women's elite squads of the Golf Union of Wales and for many of the English County Union's elite squads; PGA European Tour and LET players.
two hard tennis courts, two paddle courts, beach volley ball and two football pitches – one is a full-size grass pitch; the other is designed for five-a-side games;
a Spanish colonial style Golf Club House with a lounge, bar, restaurant, locker rooms, TV and reading rooms, and a Ralph Lauren Golf Boutique;
The Crocodile Club which provides family fun at the heart of the resort with pools, equipped sand play areas, a kid's battery powered John Deere Gator circuit and a games room as well as a jacuzzi, sun lawns and a pool bar;
a health and fitness club and spa.
Awards
In 2005 Desert Springs won the Daily Mail Best Almeria Award and the Bentley International Property Awards for the Best Spain Development and Best Architecture. In 2006, it was awarded the Spanish National Madera Verde Prize for Environmentally Sensitive Development. In 2007, the El Torrente Restaurant received the New Millennium International Gastronomy Award for the Tourist, Hotel and Catering Industry. This award was created by the Trade Leaders Club with the aim of distinguishing companies from all countries, for the outstanding quality of their products or services.
Already well known as a resort specialising in family holidays, Desert Springs is gaining popularity as a centre for warm-weather training for golfers and cricketers, as well as footballers. For details call 01242 680116 or visit the website, http://www.almanzora.com
The climate of the Almanzora coastal region
Desert Springs takes it name from the region's desert microclimate, which is unique in Europe. It has the warmest winter weather on the continent with an annual average of more than nine hours of daily sunshine and maximum daily temperatures of between 16°C (60°F) and 30°C (86°F) throughout the year. Annual rainfall is less than 200 mm. The Almanzora's coastal waters are among the cleanest and warmest in Europe, attracting both fish and diving enthusiasts.
Getting there from the UK
The Almanzora region is easy to reach, thanks to three international airports. The current journey time from Almeria International Airport to Desert Springs is around 50 minutes by road. Other international airports are at Murcia – 70 minutes on the toll motorway direct to the Almanzora Valley – and Alicante, which is less than two hours by road.
Reader Enquiries:
Simon Coaker
The Almanzora Group Ltd
The Manor, Boddington,
Cheltenham, Gloucestershire GL51 0TJ
Tel: +44 (0) 1242 680116
e: tag@almanzora.co.uk
www.almanzora.com