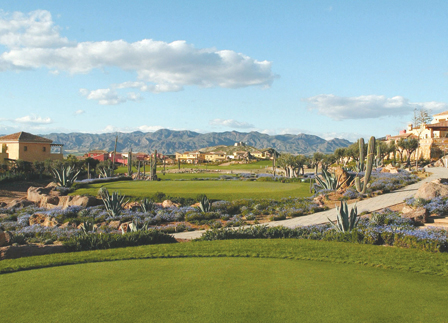 A view of Desert Springs, Europe's only international award-winning luxury family resort and championship desert golf course where Mankiewicz Coatings is to hold its Annual Golf Challenge following the success of its first corporate golf event for customers.
Bosses of a Leicester firm specialising in the production of internal and external finishes for aircraft have praised Desert Springs in Spain for the calibre of the corporate golf event it organised to help them thank customers for their business.
Roger Fergus, sales manager of Mankiewicz Coatings Aviation Division, who selected Europe's only international award-winning luxury family resort and championship desert golf course for the event, said: "I have attended numerous corporate golf events around the world but I have never experienced such professional organisation as that of the team at Desert Springs.
"Although golf is probably the most popular sport within the aviation industry, this was our first event of this type. The relaxing atmosphere provided the perfect opportunity to build strong personal relationships with our customers."
The success of the event was underlined by the news that the company has decided to make Desert Springs its 'preferred venue' for any future hospitality events of this type.
Two of the firm's top executives hosted seven customers from the UK and Europe who played golf for two days on the 72 par 18-hole USGA Indiana golf course at Desert Springs. Designed by former Great Britain and Ireland Golf Team Captain Peter McEvoy, the course was inspired by the desert courses of Arizona and California.
The winner of the inaugural event was Chris Ransleigh, managing director of RAS Completions based at Biggin Hill Airport in South London.
Accommodation for customers and staff was in the privately-owned apartments available for holidays and short breaks at Desert Springs. Lunches and dinners were served in the resort's international award-winning El Torrente Restaurant and The Crocodile Club Restaurant and Bar.
Desert Springs' resort activities and marketing coordinator Kristina Werner says that the cost of an event of this type varies with the range and scale of activities involved. "Typically the cost of a three-night stay, including accommodation and meals, would work out at around €485 per head, excluding flights and transfers" she says.
Additional information about events at Desert Springs
With a variety of venues available at Desert Springs for conferences, product launches and other indoor and outdoor corporate events for up to 500 people, the resort also is becoming a popular destination for incentive travel.
"It's safe, easy to reach, and offers a unique range of activities and team building experiences," says resort activities and marketing coordinator Kristina Werner.
"Arrangements are organised by a dedicated coordinator who will manage flights and airport transfers, accommodation, conference and meeting facilities, as well as formal dining and leisure options. These are both cultural and adventurous, ranging from cooking master classes to intensive courses in desert painting and sketching."
Contemporary art lovers' packages can be combined with unique adventure experiences. In addition to desert golf they include tuna fishing, clay pigeon shooting, beach safari quad biking and even tank driving.
Desert Springs is easy to reach from the UK, thanks to three international airports. They are: Almeria Airport, around 40 minutes away by road; Murcia Airport, 80 minutes by car on the new toll motorway direct to the Almanzora Valley (the toll is €11.5), and Alicante Airport which is less than two hours by road.
Airlines currently flying to the region from the UK include easyJet, Monarch, Ryanair, Jet2, Jetair Fly and Thomas Cook.
For more information about arranging incentive travel, a corporate event or a special weekend getaway for two, call Kristina Werner at Desert Springs on +34 618 609 978 or email kw@almanzora.com or visit the website www.almanzora.com
For further information contact: The Almanzora Group
Email: tag@almanzora.co.uk
Telephone: +44 (0) 1242 680 299