The Almanzora Group, award winner of affordable luxury property in Almería, Andalucía, south-east Spain, has launched a unique, time limited offer on its 10 remaining new homes available at its development of 'La Sirena', in the traditional fishing village of Villaricos. 
With 33 new homes now sold at La Sirena, The Almanzora Group has released a unique time limited opportunity, with discounts of up to 61% off the List Price of property, for those looking to snap up the perfect Spanish retreat at a bargain price.
The 10 remaining properties at La Sirena comprise; eight two-bedroom apartments ranging from €82,500 – €92,000, one three-bedroom apartment priced at €107,500 and one two-bedroom townhouse at €92,000. This offer is only valid until 31st May, so if you are wanting to enjoy your summer days lounging on the beach and then your evenings relaxing watching the sunset over the Mediterranean from either your very own roof terrace, or one of the two harbours on the seafront, now is the time to buy!
The properties have floor areas ranging in size from 57 sq. m to 78 sq. m, excluding their terraces, which range from 11 sq. m to 38 sq. m.   Each property includes an individual roof terrace, double-glazing and basement parking.
La Sirena is a development of brand new 'no frills' apartments and townhouses.
"They are built to the same quality standards as the homes in the group's earlier developments in the village, and in the nearby Desert Springs family and golf resort, but without all the frills," explains Simon Coaker, sales and marketing manager of The Almanzora Group Ltd. "This means that they are affordable and ideally suited to buyers looking to snap up a bargain within a coastal development that is well integrated within the heart of an existing village and very much part of village life."
The seafront is only a two-minute walk from the development and the sandy Villaricos beach another three minutes away.
The development of these homes follows the success of earlier developments by the Almanzora Bay Group, which has already built more than 250 apartments and townhouses in several locations within the village. They include Harbour Lights, a waterfront development overlooking the Esperanza harbour.
For more information, or to arrange an inspection visit, contact Playas del Almanzora, S.L,       C/ Baria, Edificio, Villasol, 04616 Villaricos, Cuevas del Almanzora, Almería – España, telephpone (0034) 950 467 104, e-mail playas@almanzora.com
Background information about Villaricos
At the time when The Almanzora Bay Group was drawing up its development plans in 1985, the population of Villaricos had shrunk to less than 300 people, many of the village buildings were in ruins and the harbours were derelict. There were no paved streets and only one or two telephones.
The resurgence of Villaricos follows the construction of the first ever bridge across the Almanzora River to the village as well as a maritime paseo (seafront promenade), a new primary school and the refurbishment of the Esperanza and Balsica Harbours, which are busy with fishing boats.
New village development has accommodated an expanding local population and Villaricos now has around 19 restaurants, cafes and bars. Most are Spanish and the village has retained its very Spanish character.
Local leisure activities available include fishing and scuba diving.  A Sunday market and numerous fiestas in Villaricos and nearby Cuevas del Almanzora are among other attractions.
Says Simon Coaker: "The success of this process has been confirmed by the change in attitude to Villaricos; it is no longer regarded as a village of negligible residential or tourist value, but now is on its way to becoming one of the most sought-after locations on this coast."
The new homes at La Sirena are among further planned in the village. They will include apartments built above shops, cafes and restaurants around public plazas and courtyards, private gardens and swimming pools.
On the closest of the surrounding foothills of the Sierra Almagrera Mountains, there will be a number of small individual hamlets and settlements. All are planned as part of a gradual and progressive expansion of the village to improve its economy, services and lifestyle.
Reader enquiries:
NOTE: High Resolution Images available upon request.
Simon Coaker
The Almanzora Group Ltd
The Manor, Boddington, Cheltenham,
Gloucestershire GL51 0TJ
Tel: +44 (0) 1242 680116
e: tag@almanzora.co.uk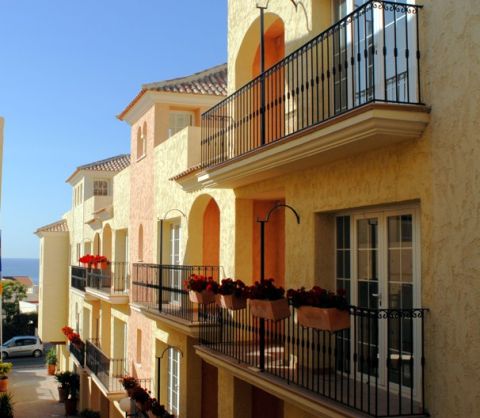 La Sirena development at Villaricos fishing village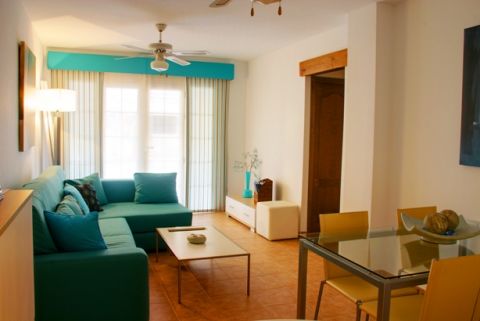 Typical living room interior at La Sirena