Sir Ian Botham's own Charity Golf Classic will be played at Sir 'Beefy's' home course, the Desert Springs Resort and Golf Club in Spain, from the 11th – 13th October 2007, to raise more funds for Leukaemia Research. A host of celebrity golfers, former Ryder Cup players and European Tour players will join cricketing legend, Sir Ian Botham at the event presented by CGTV Games Ltd.
The event is the culmination of 'Beefy's' Charity Golf Series that started in Scotland and then moves on to Ireland. Sir Steve Redgrave, Nigel Mansell, Ian Woosnam, Nasser Hussain, Steve Cram, Gordon Brand Jnr. and Peter Baker are just some of the keen celebrity and professional golfers who have been invited to help their amateur teams of 3 to compete for this year's trophy; playing 36-holes over two days.
Sir Ian commented:-
"Outside cricket, my other great sporting passion is golf. Whether playing or watching, I have been a golf fanatic for the last 30 years and have been involved in a great many golf events. This year I decided to combine that love of golf with my equal passion for raising much needed funds for the charity, which I have supported since the mid-1980's and of which I am now President – Leukaemia Research. It seems only fitting that following on from Scotland, and then Ireland, that the final leg of my Charity Golf Series comes home to the place I consider to be the best family retreat in Europe; a place close to my own heart, Desert Springs!"
Desert Springs Resort and Golf Club is the only luxury desert resort in Europe. Located in the Almanzora in Almeria, south-east Spain, it has the warmest, driest and sunniest winter climate on the whole of the Iberian coast and in Europe without exception. It recently won the Daily Mail Award for Best Almeria Development, the Bentley International Homes Awards for Best Spanish Development and Best International Architecture, as well as the 2006 Spanish National Madera Verde Environmental Award. In 2007, The Trade Leaders Club presented its New Millennium Gastronomy Award for the Tourism, Hotel and Catering Industry to El Torrente, the resort's leading restaurant.
Desert Springs Director of Golf, Simon Coaker commented: –
"The confidence in the resort evidenced by Ian selecting Desert Springs to host such a prestigous and important personal event coupled with the agreement for CGTV Games to be the presenting sponsor underlines the growing maturity of the Desert Springs Resort & Golf Club. There is no equal to Desert Springs in terms of the quality of the Indiana course and the warmth of welcome offered to our guests and to be instrumental in having the opportunity to help raise much needed funds for Leukaemia Research is wonderful."
Leukaemia Research was established in 1960 and is the only national research charity solely devoted to leukaemia and related blood disorders in both adults and children. The charity is committed to improving treatments, finding cures and learning how to prevent leukaemia, Hodgkin's and other lymphomas, myeloma and other related blood disorders, which are diagnosed in 24,500 people in the UK every year. Its work depends entirely on voluntary donations.
CGTV Games Ltd., is proud to be the Presenting Sponsor of this year's Sir Ian Botham Charity Golf Classic at Desert Springs Resort and Golf Club.
CGTV Games is a global solutions provider in the Casino and Gaming Industry. CGTV Games clients enjoy world-class online gaming software, including management and support, as well as access to worldwide television marketing campaigns.
A pioneer in global online gaming, CGTV Games works hard to keep its partners at the forefront of the interactive entertainment gaming industry. CGTV Games is unique in providing cross-platform solutions, leading the way with cutting-edge programming effective anywhere in the world.
CGTV Games is committed to taking players to the next level in the entertainment experience by continuing to offer fun and convenient ways to get in the game. For further information, please visit www.cgtvgames.com
Chairman of CGTV Games Ltd., David Mathewson remarked: –
"We are delighted to be the Presenting Sponsor of the Sir Ian Botham Charity Golf Classic. As well as raising vital funds for 'Beefy's' charity, Leukaemia Research, we are looking forward to 2 days of competitive golf at one of the very best golfing venues in Spain. With 'Beefy' hosting the event, I'm sure that we will all have a lot of fun along the way! We are proud to be associated with 'Beefy' and this great event."
The event programme includes one practice round and two competitive rounds of golf on the Championship Indiana Course. Participants will enjoy 2 nights luxury accommodation at The Lodge @ Desert Springs. The event culminates with a celebrity gala dinner and entertainment, including a chance to bid for 'money can't buy' auction items. All proceeds from the event will be donated to Leukaemia Research.
UK:

Sports Masters International
Tom Cowgill
Managing Director
Tel: (+44) (0) 1283 7168242
Email: tom@sportsmastersinternational.com

Spain:

Desert Springs Resort & Golf Club
Simon Coaker
Director of Golf & Marketing
Tel: (+34) 678 679 387
Email: scc@almanzora.com
The following images are available in high resolution from Simon Coaker
Image 1:
From Right to Left: – Chairman of CGTV Games Ltd., David Mathewson & Desert Springs Director of Golf & Marketing Simon Coaker, at the signing ceremony at the Desert Springs Resort of the Presenting Sponsor agreement for the Sir Ian Botham Charity Golf Classic.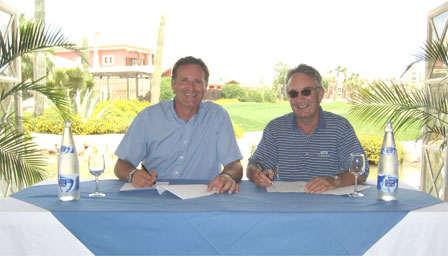 Image 2:
Sir Ian Botham on the Championship Indiana course at the Desert Springs Resort and Golf Club, Spain.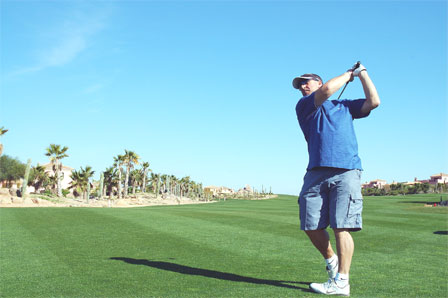 For further information contact: Simon Coaker
Telephone: +34 678 235 716
Email: scc@almanzora.com