Sporting celebrities & legends from the world of Golf, Football, Tennis, Athletics, Cricket and the entertainment industry gathered in support of the Sir Ian Botham Charity Golf Classic Grand Final at the Desert Springs Resort and Golf Club between Thursday 8th and Saturday 10th October, 2009. The event raised in excess of 65,000 Euros for Leukaemia Research.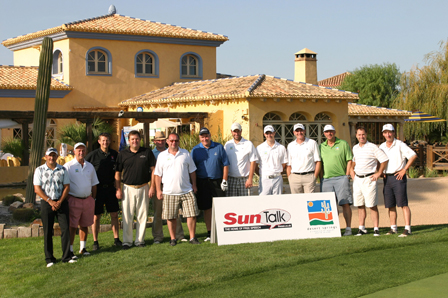 Celebrity Captains for the 2009 Grand Final
Steve Richardson, Paul Way, D.J. Russell, Martin Poxon, Vinny Samways, David Lloyd, Steve Cram MBE, Jeremy Lloyds and Sir Ian Botham himself were just some of the keen celebrities and professional sportsmen at the resort to captain their amateur teams of 3 to compete for this years trophy; playing 36-holes over two days.
Leukaemia Research was established in 1960 and is the only national research charity solely devoted to leukaemia and related blood disorders in both adults and children. The charity is committed to improving treatments, finding cures and learning how to prevent leukaemia, Hodgkin's and other lymphomas, myeloma and other related blood disorders, which are diagnosed in 24,500 people in the UK every year. Its work depends entirely on voluntary donations.
Proceedings commenced on Thursday with a welcome BBQ and team draw announcement followed by a 'Frank Sinatra' tribute evening held at the Resort's 'Crocodile Club'.
SunTalk radio show presenter Jon Gaunt was broadcasting live from Desert Springs during the tournament carrying out live interviews with the celebrity team Captains. To listen to his interviews with Sir Ian Botham, Vinny Samways, David Lloyd, Steve Richardson and Steve Cram MBE click here.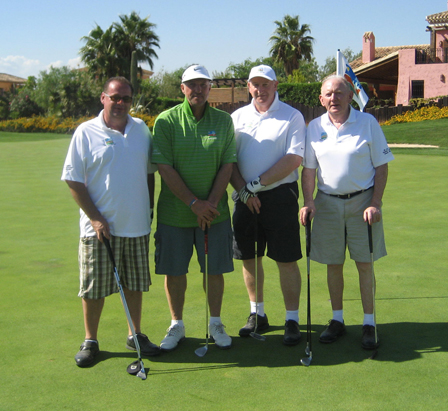 Sir Ian Botham with Team members; Paul Breen Turner, Kevin Robinson & Joe Burke
After two competition rounds, the eventual winners with a combined total of 174 stableford points were the team led by former European Tour and Ryder Cup player Steve Richardson, partnered by Mark Noble, Collett Sabona and Tom Ford.
2009 Winning Team Captain Steve Richardson with Mark Noble, Collett Sabona & Tom Ford
The Gala Dinner was held at the award winning El Torrente Restaurant in Desert Springs, entertainment being provided by ex talkSPORT Radio presenter Paul Breen Turner, ably assisted at the charity auction by Steve Cram MBE, where some incredible items were on offer including the opportunity to attend the 2010 Ladies Wimbledon Final with lunch in the members dining room with David Lloyd, which fetched 21,000.00 Euros.
Sir Ian Botham commented:
'This year marks the third consecutive year that the Grand final of my Charity Series has been hosted at Desert Springs! Having SunTalk at this years event with Jon broadcasting his shows live from the resort and carrying out interviews with some of our celebrity guests has certainly helped in creating even more awareness for Leukaemia Research and has added an additional fun element to the competition.
Considering the times we all find ourselves in at the moment, I am extremely pleased with the generosity demonstrated by all of those involved in raising over 65,000.00 Euros for Leukaemia Research. That and the smile on everyone's faces and the comments received from the attendees, both the amateur players and the celebrities, only goes to underline the success of the event and further confirms that my decision for the event to remain at Desert Springs was the right one. I am more than pleased to say that we shall be returning here again in 2010.'
Director of Golf, Simon Coaker remarked:
'This event has now become a regular fixture within the Club's calendar and is one that everyone at Desert Springs looks forward to. Over the last three years we have seen familiar faces, both celebrities and team players, returning to the resort to participate in the event which have resulted in friendships being developed. The quality of the Indiana course and the facilities available, coupled with the warmth of welcome offered to our guests all contribute towards creating a successful event. Together, this not only confirms the popularity of the event itself but also the maturity of the Desert Springs Resort & Golf Club on the international scene.'
For further information contact: Golf Reception
E-mail:golfreservations@almanzora.com
Telephone: +34 678 235 716