Desert Springs has been selected to be host to the 'Ian Botham Charity Golf Classic' between Thursday 11th – Saturday 13th October 2007, the final event of the 'Ian Botham Charity Golf Series'.
Desert Springs Resort and Golf Club is the only luxury desert resort in Europe. Located in the Almanzora in Almeria in south-east Spain, it has the warmest, driest and sunniest winter climate on the whole of the Iberian coast and in Europe without exception. It recently won the Daily Mail Award for Best Almeria Development, the Bentley International Homes Awards for Best Spanish Development and Best International Architecture, as well as the 2006 Spanish National Madera Verde Environmental Award and the 2007 Trade Leaders Club New Millennium Gastronomy Award. For the Tourism, Hotel and Catering Industry for its El Torrente Restaurant.
Ian commented:-
'Outside cricket, my other great sporting passion is golf. Whether playing or watching, I have been a golf fanatic for the last 30 years and have been involved in a great many golf events. This year I decided to combine that love of golf with my equal passion for raising much needed funds for the charity, which I have supported since the mid-1980's and of which I am now President – Leukaemia Research.
It seems only fitting that following on from Scotland, and then Ireland, that the final leg of my Charity Golf Series comes home to the place I consider to be the best family retreat in Europe; a place close to my own heart, Desert Springs!
It will be a unique and truly first class event and will afford my fellow members and home owners at Desert Springs as well as the public a chance to play with some world class sports stars, along with some of my great celebrity friends, who are kindly giving up their time to play.'
Leukaemia Research was established in 1960 and is the only national research charity solely devoted to leukaemia and related blood disorders in both adults and children. The charity is committed to improving treatments, finding cures and learning how to prevent leukaemia, Hodgkin's and other lymphomas, myeloma and other related blood disorders, which are diagnosed in 24,500 people in the UK every year. Its work depends entirely on voluntary donations.
Director of Golf, Simon Coaker remarked: –
'The confidence in the resort evidenced by Ian inviting Desert Springs to host such a prestigous and important personal event underlines the growing maturity of the Desert Springs Resort & Golf Club. There is no equal to Desert Springs in terms of the quality of the Indiana course and the warmth of welcome offered to our guests. Desert Springs will again benefit in terms of its reputation for quality, a matter of great prestige to both the Resort and the local area. That this is the result of having the opportunity to help raise much needed funds for Leukaemia Research is wonderful.'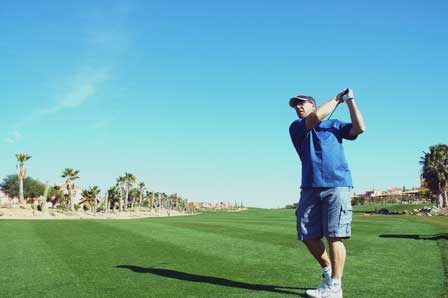 Ian Botham at Desert Springs Resort & Club
For further information contact: Simon Coaker
Telephone: +34 678 235 716
Email: scc@almanzora.com