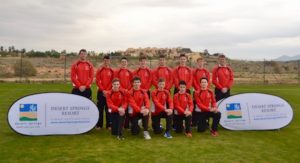 Blundell's School Cricket Club at The Desert Springs Cricket Academy
Blundell's School Cricket players are now back in England having completed a successful three (3) days of warm weather pre-season cricket and fitness training between Friday 17th – Monday 20th February at Desert Springs Resort, Europe's only international award-winning luxury family resort and championship desert golf course with its very own dedicated Cricket Academy, in the Almanzora region of Almeria, Andalucía in south-east Spain.
Leigh Menheneott and Liam Lewis, Blundell's School Cricket Coach and Head of Cricket respectively, accompanied twelve (12) players who completed bowling, batting and fielding practice as well as strength and conditioning training sessions as they stepped up their physical preparations for the upcoming 2017 season.
Cricket Coach, Leigh Menheneott commented:
"This was our first visit to the Cricket Academy at Desert Springs and based upon our experience it will most definitely not be our last! The total experience far outweighed our expectations.
A real top quality facility with excellent accommodation. All the staff were so friendly, welcoming, and helpful, which made our visit even more enjoyable and relaxed. Feeding 12 young men is an onerous task, the F&B team certainly delivered, the food was superb and plentiful in portion sizes.
Truly, an excellent visit. Thank you to all at Desert Springs!"
The training camp worked on a specific and carefully planned programme covering technical skills, strength and conditioning and both individual and group activity. Blundell's School Cricket players said of their pre-season training experience at the Desert Springs Cricket Academy:
"These 3 days have been excellent, playing on some of the best facilities in my time. The resort itself has been lovely, with the golf course in the background. I would recommend this resort for future training." Tom Mortiboys
"Fantastic facilities and really good food and service. The grass surface was a delight to play cricket on. I would recommend this resort for everyone." Charlie Fanous
"Top class facilities, better than a sports hall back home! The accommodation is very modern and homely. Thank you very much for everything." Ed Blackmore
"Some of the best facilities I've ever seen. The staff were friendly and helpful. Would highly recommend." Greg Cole
"My time here at Desert Springs has been a great experience. The facilities are World class. The overall accommodation and catering was superb. I have loved my time at Desert Springs." Tom Reynolds
 "I think we have all loved our last 3 days here at Desert Springs. The resort provides fantastic accommodation and food to set you up for each day's training. The cricket facilities are the best I have ever used. Overall my time here has been great and I really hope that I can come back soon." Joe Du' Gay
"I have really enjoyed my time here at Desert Springs. The accommodation was superb and I slept so well all three nights. The cricket facilities were amazing and all of the food was delicious. All the staff were very helpful and friendly and helped me to enjoy my time at Desert Springs even more." Jack Burnard
"Desert Springs was an amazing experience. The staff are friendly and the facilities are out of this World. The food was perfect. Overall it was a holiday that I will never forget." Joe Hancock
Blundell's is a co-educational independent school for full, weekly and flexi boarding and day pupils from ages 11 to 18. The school combines strong academic achievement and excellent facilities with the best pastoral care. Blundell's has a long tradition of playing cricket and was recently recognised as one of the top 100 schools for the sport by The Cricketer magazine.
To view the video of the Desert Springs Cricket Academy Click Here
The players and coaches were accommodated in some of the privately owned apartments normally reserved for holidays and short breaks at Desert Springs and the resort's executive chef was on hand to cater for the special dietary requirements of individual players dining in El Torrente Restaurant.