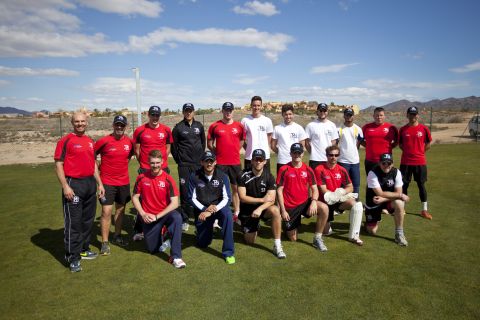 Back Row Second From Left Matthew Maynard (Coach) & Back Row Second From Right Dean Conway (Physiotherapist) with Tom Maynard Trust Academy players at Desert Springs Cricket Academy during their 2015 training camp.
The Tom Maynard Trust Academy has confirmed its return visit to Desert Springs Resort between 18th– 27th February 2016, comprising twelve professional cricketers from some of the UK's first class counties and six supporting staff.
The 2015 intake will spend ten days at the Desert Springs Cricket Academy working on a carefully planned programme covering technical skills, strength and conditioning and both individual and group activity.
Matthew Maynard will head the delivery of the programme. Former Gloucestershire, Yorkshire and Australia all-rounder Ian Harvey and Head of Elite Coach Development at the England and Wales Cricket Board (ECB), Gordon Lord, are among those delivering specialist sessions to the players; and former England Head Physiotherapist, Dean Conway, is overseeing the fitness and physical work while the group is at Desert Springs.
Somerset Director of Cricket Matthew Maynard will head the delivery of the programme.
He will be assisted by former Australia all-rounder and current Gloucestershire Assistant Head Coach Ian Harvey and, it is hoped, by former Leicestershire, Kent & England wicket-keeper/batsman Paul Nixon. All three were involved in the Tom Maynard Academy in each of the two previous years.
Jamie Dalrymple, former Glamorgan captain and Middlesex and England all-rounder, will again provide insights into leadership, sports psychology and dressing room dynamics, and Ireland's former Head of Performance and now Millfield School's Head of Cricket Coaching, Mark Garaway, will be back to carry out some personality profiling and to support the 2016 intake with expert advice on how to use that to beneficial effect in their careers.
Mike Fatkin, one of the Trustees of the Tom Maynard Trust and a former CEO at Glamorgan, will provide management support for Matthew and help the players to understand some of the off-field pitfalls of being a professional sportsperson.
Former England Head Physiotherapist Dean Conway will oversee the fitness and physical work while the group is in Spain.
Once again the 2016 programme is being funded in its entirety by the Trust.
The twelve successful players are:
Lukas Carey (Glamorgan); Ryan Davies (Somerset); Tom Hampton (Gloucestershire); Jamie Harrison (Durham); Ryan Higgins (Middlesex); Jonty Jenner (Sussex); Chris Jones (Surrey); Matt Lamb (Warwickshire); Harry Podmore (Middlesex); Ed Pollock (Warwickshire); Ryan Stevenson (Hampshire); and Olly Stone (Northamptonshire).
Matthew Maynard said:
"We are delighted again to have had such fantastic support from the counties and I'm really looking forward to working with another group of young cricketers as we continue to establish the Tom Maynard Academy as an integral part of the ECB's and the counties' player development pathways.
There are some very knowledgeable people involved in delivering the programme and the quality of the facilities at Desert Springs continues to improve year on year.
A large proportion of the lads who have come through the Academy have gone on to play senior level cricket and I have no doubt the experience will be of real benefit to the twelve cricketers involved as they approach pre-season."
To view a video of the Desert Springs Cricket Academy view: – Desert Springs Cricket Academy
The players and staff will be accommodated in some of the privately owned apartments normally reserved for holidays and short breaks at Desert Springs and the resort's executive chef will be on hand to cater for the special dietary requirements of individual players dining in the award-winning El Torrente Restaurant.
For more information on the Tom Maynard Trust, visit the website: http://www.tommaynardtrust.com/