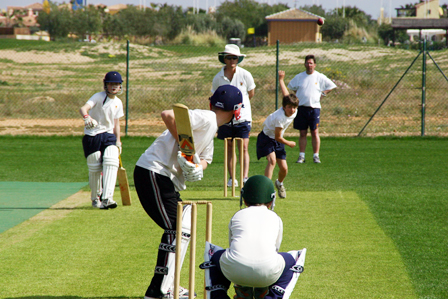 Cheltenham College Junior School cricketers pictured during pre-season training at Desert Springs in south-east Spain.
Cricketers from Cheltenham College Junior School will return to the Almeria region of south-east Spain in April for pre-season cricket training in the warmth of Europe's only desert resort for the fourth year running.
The decision follows the success of the last season in which the school's four top teams – which included 23 players who had trained in Spain – won or drew all but 14 of the 60 games they played against other schools.
This year a squad of 28 selected pupils aged between 11 and 13, as well as eight staff – including three who will be there to hone their own cricket coaching skills – will spend five days at Desert Springs, Europe's only international award-winning luxury family resort and championship desert golf course.
Kim Parsley, the school's assistant head and master in charge of cricket, says the aim will be to enhance batting, bowling, catching and throwing skills.
"We want to improve teamwork fielding as well as details like eye co-ordination, movement, agility, thinking and communication skills on the field," he said. "Much of that is much easier to achieve in the warm Spanish sunshine than the cold spring weather which is normal in the UK."
As in previous years, the programme will include time away from the cricket field for games on the nearby Garrucha beach and some local sightseeing in what many regard as "the real Spain."
Accommodation will be in the nearby Marina Playa Hotel and meals will be taken at Desert Springs in both the resort's award-winning El Torrente Restaurant and its Croc Restaurant, part of the family-friendly Crocodile Club geared up for a wide variety of leisure activities.
Pupils also will be able to play golf on the 18-hole Indiana golf course designed by former Great Britain and Ireland Golf Captain Peter McEvoy.
Kim Parsley believes his school is the only one in Britain arranging pre-season cricket training in this way.
He says: "Unlike schools which take their teams overseas to compete with other schools, our players are all winners because they return from Spain with improved skills and the benefits of one-to-one coaching in a warm and relaxed environment."
Players who benefited last season included Ben Ringrose, a 13-year-old pupil who was captain of the Gloucestershire Under-13 team and trained at Desert Springs in 2007. As the school's 1st XI captain during two seasons – and for a tour to Barbados – he scored a total of 1,280 runs, including a record 875 during the summer season of 2008.
"That is a very unusual achievement in the field of prep school cricket," says Kim.
Already well-known as a resort specialising in family holidays, Desert Springs is gaining popularity as a centre for warm-weather training for golfers and footballers, as well as cricketers. For details call the Cheltenham-based Almanzora Group +44 (0) 1242 680116 or visit the website, www.almanzora.com
For further information contact: The Almanzora Group
Email: tag@almanzora.co.uk
Telephone: +44 (0) 1242 680 299