The first intake for the new Tom Maynard Academy has been confirmed, comprising eleven professional cricketers from nine of the UK's first class counties.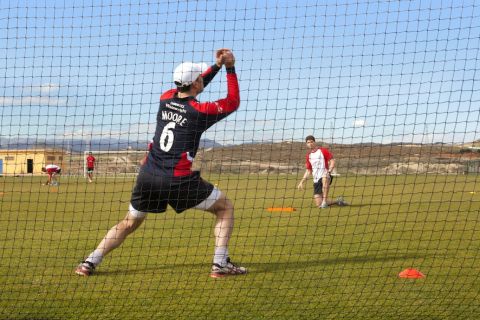 The 2014 intake will spend ten days from 13th – 22nd February 2014 at Desert Springs, working on a carefully planned programme covering technical skills, strength and conditioning and both individual and group activity. The programme finishes with a special one-day match between the Tom Maynard Academy XI and the Spanish national side.
Matthew Maynard will head the delivery of the programme. For the 2014 intake, former Gloucestershire, Yorkshire and Australia all-rounder Ian Harvey and Head of Elite Coach Development at the England and Wales Cricket Board (ECB), Gordon Lord, are among those delivering specialist sessions to the players; and former England Head Physiotherapist, Dean Conway, is overseeing the fitness and physical work while the group is at Desert Springs.
The 2014 programme is being funded in its entirety by the Tom Maynard Trust. In future years it is hoped the programme might form part of the ECB's player pathway, designed to work with young and emerging county cricketers at the start of their careers as part of a programme helping them prepare for the UK county season.
After a nominations process, the eleven successful players are:
Tom Barber (Hampshire); Ollie Batchelor (Surrey); Andrew Carter (Nottinghamshire); George Edwards (Surrey); Cameron Herring (Gloucestershire); Fynn Hudson Prentice (Sussex); Rob Keogh (Northamptonshire); Mattie McKiernan (Lancashire); Dewi Penrhyn Jones (Glamorgan); Aaron Thomson (Warwickshire); and Jon Webb (Warwickshire).
Matthew Maynard said:
"We are delighted to have had such fantastic support from the counties and I'm really looking forward to working with the players and establishing the Tom Maynard Academy as an integral part of the ECB's and the counties' player development pathways. Desert Springs has excellent facilities for the players to work on their games and on their fitness and we're pleased to be partnering with them. We have some very knowledgeable people involved in delivering the programme and I have no doubt it will be of real benefit to the lads involved as they approach pre-season."
The Academy is one of four main areas of work covered by the Tom Maynard Trust, each with the aim of providing support for aspiring young sportsmen and women who may not otherwise have the opportunity to live their dreams.
For more information on the Trust, visit the website: http://www.tommaynardtrust.com/
For further information contact: The Almanzora Group
Tel: +34 950 091 518
Email: tag@almanzora.com