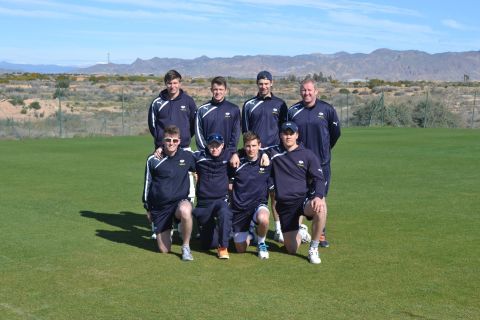 Yorkshire County Cricket Club Coach Anthony McGrath (Top Row Far Right) and Sam Hinchcliffe Head of Customer Operations (Bottom Row Far Left) with squad players Ryan Gibson, Josh Shaw, Jim Wainman, Jonathan Tattersall, Dan Hodgson & Elliot Callis attending the Pre-Season Training Camp
Yorkshire County Cricket Club players are now back in England having completed a successful five (5) days of warm weather pre-season cricket and fitness training between Sunday 22nd & Friday 27th March at Desert Springs Resort, Europe's only international award-winning luxury family resort and championship desert golf course with its very own dedicated Cricket Academy, in the Almanzora region of Almeria, Andalucía in south-east Spain.
Andy McGrath, Yorkshire CCC Bowling Coach and Sam Hinchcliffe accompanied six (6) players who completed bowling, batting and fielding practice as well as strength and conditioning training sessions as they stepped up their physical preparations for the upcoming 2015 season.
Andy McGrath, Yorkshire CCC Bowling Coach, commented:
"This was a fantastic week and a great start for the lads ahead of the season.
The cricket facilities & staff were first class and all of our needs were catered for and we would definitely recommend and use again in the future."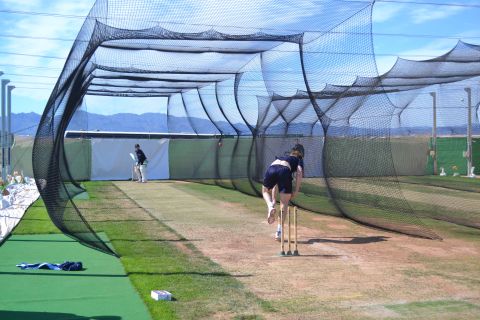 'Nets Practice Session' at the Desert Springs Cricket Academy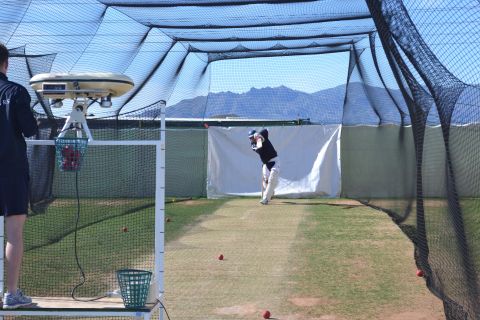 'Batsman Practice Session' at the Desert Springs Cricket Academy
The training camp worked on a specific and carefully planned programme covering technical skills, strength and conditioning and both individual and group activity.
Yorkshire CCC players said of their pre – season training experience at Desert Springs Resort:
"Superb facilities, excellent hospitality, great week!" Dan Hodgson
"Nice to use grass nets having been indoor in England all winter, great experience!" Jonathan Tattersall
"Delightful cricket facilities in a picturesque setting, refuelled by excellent cuisine." James Wainman
"An outstanding opportunity for Pre-Season, a great week!" Ryan Gibson
"Very accommodating staff in a lovely part of the world. Excellent Pre-Season facilities and I would love to come back!" Elliot Callis
The players and coaches were accommodated in some of the privately owned Townhouses normally reserved for holidays and short breaks at Desert Springs and the resort's executive chef was on hand to cater for the special dietary requirements of individual players dining in El Torrente Restaurant.
For further information contact: The AlmanzoraGroup Ltd
Tel: +44 (0) 1242 680 299