Last week Peter Marron Chief Groundsman at Lancashire County Cricket Club since 1983 visited the Desert Springs Resort and Golf Club to advise on the presentation of the resort's new cricket wicket. Desert Springs in Almeria in South-east Spain is located on a plateau above the Mediterranean that is precisely the driest and sunniest spot with the warmest winter in the whole of the Iberian Peninsula and Europe.
Renowned for producing some of the best wickets in international and domestic cricket Peter visited Desert Springs to inspect the new grass wicket and to provide expert advice to Golf Course Superintendent Anthony Brooks on the improvement and maintenance of the already impressive cricket wicket.
Anthony Brooks and Desert Springs are no mean producers of grass themselves; the extraordinary condition of the golf course in this aggressive arid desert climate having just resulted in an invitation to supervise the football pitches of the fast rising La Liga (Premiership) bound Almeria City Football Club.
Desert Springs is fortunate to have some first class cricket connections; Ian 'Beefy' Botham is a villa owner on the resort and an enthusiastic golfer on the course and Andrew Flintoff was brought to Desert Springs by Dave Roberts, ex-England physio for his rehabilitation prior to the 2005 Ashes. Mike Atherton, Bob Willis, and John "Animal" Morris have all played the course. In 2006 Freddie sponsored Peter Marron's testimonial when he became one of the very few groundsmen ever to be honored by the grant of a testimonial.
Desert Springs has been steadily promoting its extraordinary potential for winter cricket and developing its cricket practice facilities and is already the favourite overseas training venue for Cheltenham College JS, UK.
Peter remarked: – "Desert Springs offers some excellent cricket practice facilities for warm winter weather pre-season team building and training. Taken together with the golf and the many other top quality relaxation and leisure opportunities at Desert Springs for both Senior and Junior teams, it is an outstanding venue."
Simon Coaker, Director at the Desert Springs Resort, commented that: – "With the expert advice and guidance provided by Peter and the exceptional skills of Anthony Brooks and his team, we are confident that the qualities of the cricket facilities at the Resort are a perfect match to those of the Indiana Course. Combined with the other existing resort facilities this will undoubtedly encourage more teams to choose Desert Springs as their overseas cricket training facility."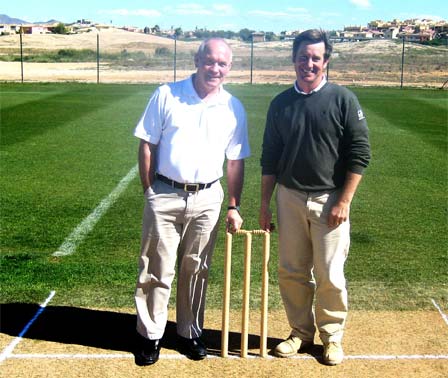 For further information contact: Simon Coaker
Telephone: +34 678 235 716