We are delighted to announce that, Desert Springs Resort, Europe's only international award-winning luxury family resort with its very own ICC ODI accredited Cricket Ground, located in Almeria, Andalucía, south-east Spain is host to Spain, Italy, Sweden, Norway and Isle of Man competing in the Spain WT20I Pentangular Series between Thursday 10th  – Tuesday 15th November, 2022.
Spanish Head Coach, Neil Brook commented;
"Our Spanish ladies are looking forward to competing in an event hosted in Spain. It is going to be a huge step for some of the ladies, who will be competing on grass for the first time, but it will be a fantastic experience for them"
Spain WT20I Pentangular Series 2022 Match Schedule:
Friday 11th November
Spain v Italy: 9:00hrs.
Isle of Man v Sweden: 12:00hrs.
Italy v Norway: 15:00hrs.
Saturday 12th November
Isle of Man v Norway: 9:00hrs.
Sweden v Italy: 12:00hrs.
Spain v Isle of Man: 15:00hrs.
Sunday 13th November
Norway v Spain: 9:00hrs.
Italy v Isle of Man: 12:00hrs.
Norway v Sweden: 15:00hrs.
Monday 14th November
Sweden vs Spain: 09:00hrs.
3rd Place Play Off: 12:00hrs.
Series Final: 15:00hrs.
Desert Springs Resort Cricket Manager, Peter Scott remarked;
"We are pleased to confirm that spectators are most welcome to attend all matches and admission is FREE, however we must advise that as an official ICC sanctioned event this is strictly on the basis that all spectators follow the clearly defined signage identifying from where they may spectate.
If travelling by car, spectators are requested to park their vehicles within the Golf Club car park and take a leisurely stroll down La Fuente which will lead them to the cricket ground spectators' area.
We are looking forward to some intense battles between these teams and some great entertainment on our superb cricket ground.
Feel free to bring your parasols and deck chairs and enjoy the spectacle!"
To view the video of the Desert Springs Cricket Click Here
The players and coaches will be accommodated in some of the privately-owned Apartments at Desert Springs and the resort's executive chef will be on hand to cater for the special dietary requirements of individual players dining in El Torrente restaurant.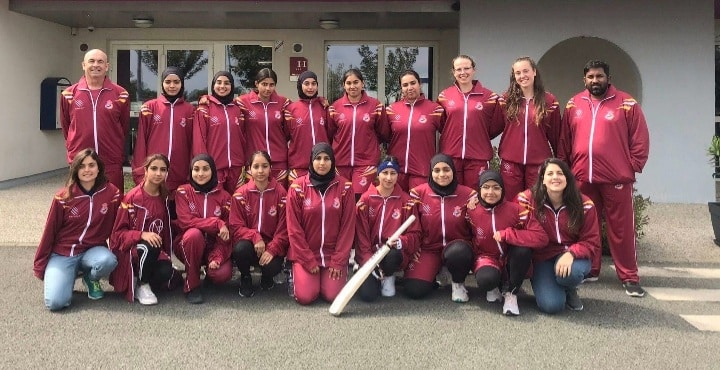 Cricket Spain Women