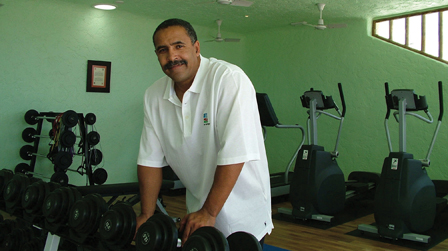 ONE YEAR ON!!
RE-LIVE 'THE OLYMPIC' FEELING WITH DALEY THOMPSON
@ DESERT SPRINGS
THURSDAY 1st AUGUST 2013
08.30hrs to 10.30hrs
To mark the celebration of the anniversary of the London 2012 Olympic Games, Daley Thompson, two time Decathlon Olympic Gold Medalist and villa owner at Desert Springs, will be helping Desert Springs Owners and Residents to find out just how it feels to be put through their paces.
Between 08.30hrs – 10.30hrs on Thursday 1st August, Daley will be at The Sierra Sports & Fitness Club, located beside the famous Crocodile Club on the Desert Springs Resort.
Daley remarked; "My sessions work best for those who wish to kick start their fitness as well as those who want to take their fitness to a whole new level whilst at the same time being fun, challenging and of course hard work!"
Don't miss this unique opportunity to meet and train under the guidance of the World's greatest ever all-round athlete, in the beautiful and unique surroundings of Desert Springs.
To register your attendance for your FREE Desert Springs gym session with Daley Thompson please visit the Golf Reception at the Club House – All levels welcome.
For more information contact : Golf Reception
Tel : +34 637 861 591
Email : golfreservations@almanora.com