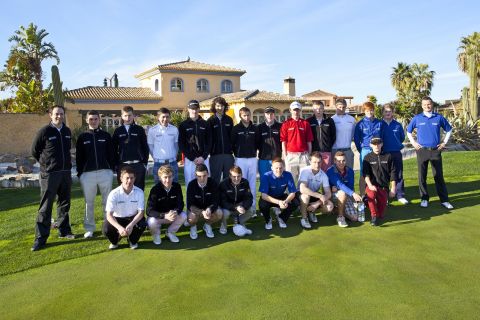 Three Darren Clarke Golf School PGA Instructors accompanied twenty students aged between 15 – 19 years for 4-days of warm weather winter training at the Desert Springs Resort between 21st & 25th January.
The Darren Clarke Golf School, based at Greenmount Campus close to Antrim, Northern Ireland, is a centre of excellence in the development of young golfers, offering state of the art facilities, a unique golf training programme, combined with a robust education through the BTEC Extended National Diploma in Sport, which is delivered by Northern Regional College at the School.
Nineteen-year-old student Paddy Casar remarked; "This has been a superb training camp and is the best place we have ever played golf!"
"A great place to practice and play and a really enjoyable training camp."
"Desert Springs provides both great practice facilities and a great course, it was just a shame about my golf!"
Those are the verdicts of 19-year-old Jamie Foley and 18-year-old Max Thallo, two full time students from the Darren Clarke Golf School.
The students and officials were accommodated in some of the privately owned apartments normally reserved for holidays and short breaks at Desert Springs and the resort's executive chef was on hand to cater for the special dietary requirements of individual players dining each evening in the 'El Torrente' Restaurant.
During their time at the resort the players utilized the excellent practice facilities at the Golf Academy and played the Indiana golf course.
Jack Murgatroyd, Darren Clarke Golf School PGA Instructor remarked:
"This is now our fourth return visit to Desert Springs Resort to host our winter training camp and it has been another superb break, enjoyed by all of our students and the resort staff were, as always, fantastic."
Andy Peoples, Darren Clarke Golf School PGA Instructor remarked:
"It has been a pleasure to be back once again at Desert Springs. The Indiana course and practice facilities were once again excellent.
We are made to feel extremely welcome by the resort staff who are all great and friendly."
For further information on the Darren Clarke Golf School visit their official website www.darrenclarkegolfschool.com
Martin Brannstrom
Tel. +34 670 613 900
E-mail: mb@almanzora.com