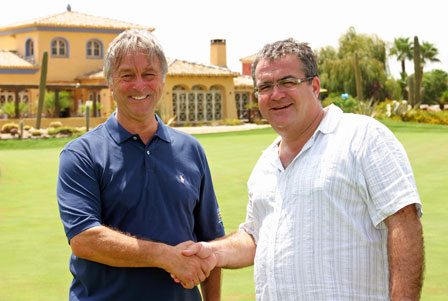 Pictured are Sun Talk's Jon Gaunt (right) with David Lloyd at Desert Springs.
Tennis champion David Lloyd has hinted that Desert Springs in Almeria – Europe's only international award-winning luxury family resort and championship desert golf course – could be the location for the first David Lloyd Tennis Academy in Spain.
The news emerged during a radio interview broadcast live from the resort by Sun Talk, the Sun newspaper's online radio station.
During a discussion with Sun Talk's Jon Gaunt – known to listeners as Gaunty – David Lloyd revealed that he was seeking a location for a tennis academy in Spain and had been encouraged to visit Desert Springs by his friend Sir Ian 'Beefy' Botham who owns a holiday home there.
David praised what he described as "a great resort" with good weather and easy access from the UK.
Making an impassioned plea for more youngsters to pursue the sport – aided by the Lottery funding now available to help them do so – David said that Desert Springs would be an ideal place for them to learn to play tennis while on holiday and then continue their new interest when they return home to the UK.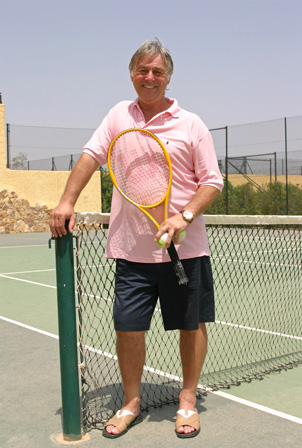 David Lloyd pictured at the Tennis Academy at Desert Springs.
A variety of tennis holidays are available at Desert Springs where facilities within the resort's Tennis Academy include two brand new tennis courts, two new paddle courts and a beach volley court. The tennis and paddle courts are finished with surfaces designed to give high bounce and add to the ease and pleasure of the game.
Headed by the resort's resident LTA qualified tennis professional, Jim Gordon, the academy offers a comprehensive, personalised and professional service with digital coaching technology for adults and children, individuals, teams and clubs, all year round.
For further information contact: The Almanzora Group
Email: desertsprings@almanzora.com
Telephone: +34 678 679 387