Fourteen (14) members of Derbyshire County Cricket Club, accompanied by Assistant Coaches Steve Kirby and Mal Loye, Operations Manager Dan Wheeldon, Physiotherapist Fran Clarkson, Strength & Conditioning Coach Jonty Norris and Analyst Jon Bateson, are now back in England having completed a successful 4-day training camp between Tuesday 12th – Saturday 16th March at Desert Springs Resort, Europe's only international award-winning luxury family resort and championship desert golf course with its very own dedicated Cricket Ground and Academy, in the Almanzora region of Almeria, Andalucía in south-east Spain.
Steve Kirby, Derbyshire CCC Assistant Coach commented;
 "Exceptional hospitality. I really enjoyed the trip and we will definitely be coming back. The cricket facilities were excellent with the nets exceptional. Everything a team would need for a good pre-season preparation!"
 Mal Loye, Derbyshire CCC Batting Coach remarked of Desert Springs Resort and the training camp;
 "The food and hospitality have been outstanding, with the nets and cricket facilities very professional."
Dan Wheeldon – Derbyshire CCC Operations Manager said;
"Excellent facilities, first class service. A great trip all round and we look forward to coming back!"
Jon Bateson – Derbyshire CCC Analyst remarked of his experience at Desert Springs;
"The facilities, food and accommodation have been world class. We couldn't have asked for a better place to prepare us for the season!"
Grass net practice, both bowling and batting took place at the Cricket Academy, whilst out-field practice, bowl through simulations, strength and conditioning work, running, speed and agility work all took place at the Cricket Ground.
Derbyshire County Cricket Club players said of their pre-season training experience at Desert Springs Resort:
"A first-class facility in a great location. Nets, main oval, swimming pool, gym and food all quality. Desert Springs have everything ticked off!" Tony Palladino
 "Desert Springs has been a great experience for me and the boys. Great service, nice food and friendly staff. Would love to come back again next year. Thanks for having us. We really appreciated it!" Alfie Gleadall
 "Top class cricket facilities. Accommodation fantastic. Food unbelievable. Golf course high class. Staff friendly, attentive, knowledgeable and helpful. Awesome stay at Desert Springs. Can't fault anything. Looking forward to returning." Daryn Smit
 "Fantastic facility. Brilliant and very friendly staff. Amazing views and surroundings. Would easily recommend to others and hope we are back soon!" Anuj Dal
 "Really enjoyed my stay at Desert Springs. All the staff have made me feel so welcome and at home. The quality of the cricket surfaces has been great, and the food has been amazing. I hope to return soon, thank you." James Taylor
 "Fantastic service and the staff were brilliant. Ground staff legends. Food great. Well done Desert Springs!" Alex Hughes
To view the video of the Desert Springs Cricket Ground & Academy Click Here
The players and coaches were accommodated in some of the privately-owned apartments reserved for holidays and short breaks at Desert Springs and the resort's executive chef was on hand to cater for the special dietary requirements of individual players dining in El Torrente Restaurant.
For further information contact:
Nick Gaywood
+44 (0)7793 558 132
ng@desertspringscricket.com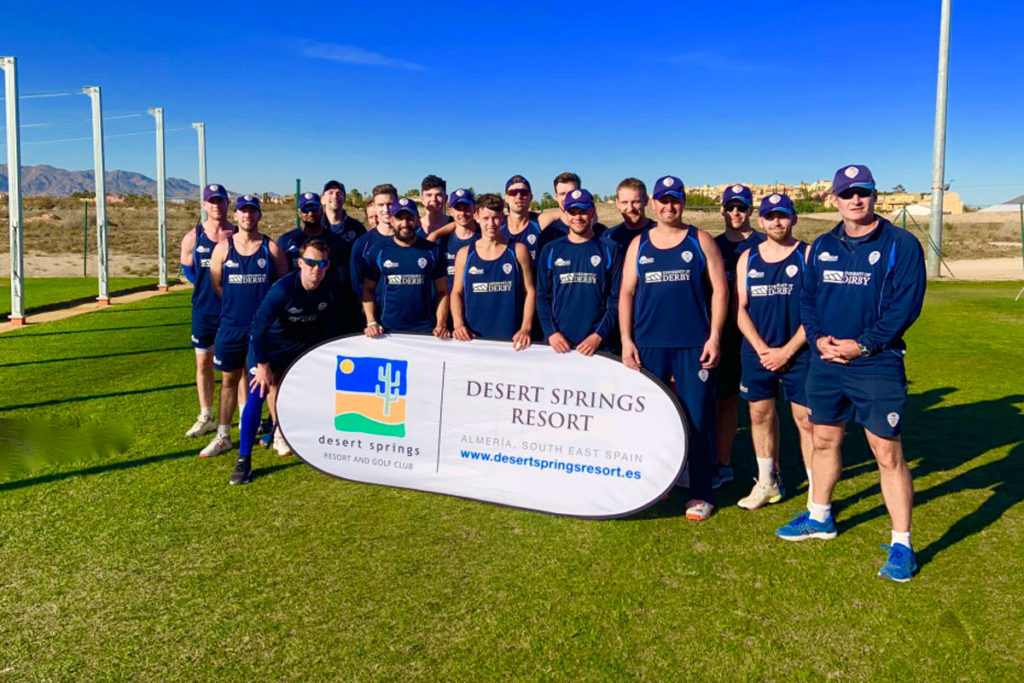 Derbyshire County Cricket Club Pre-Season Winter Training Camp at Desert Springs Cricket Ground & Academy
Derbyshire County Cricket Club training session taking place at the Desert Springs Cricket Ground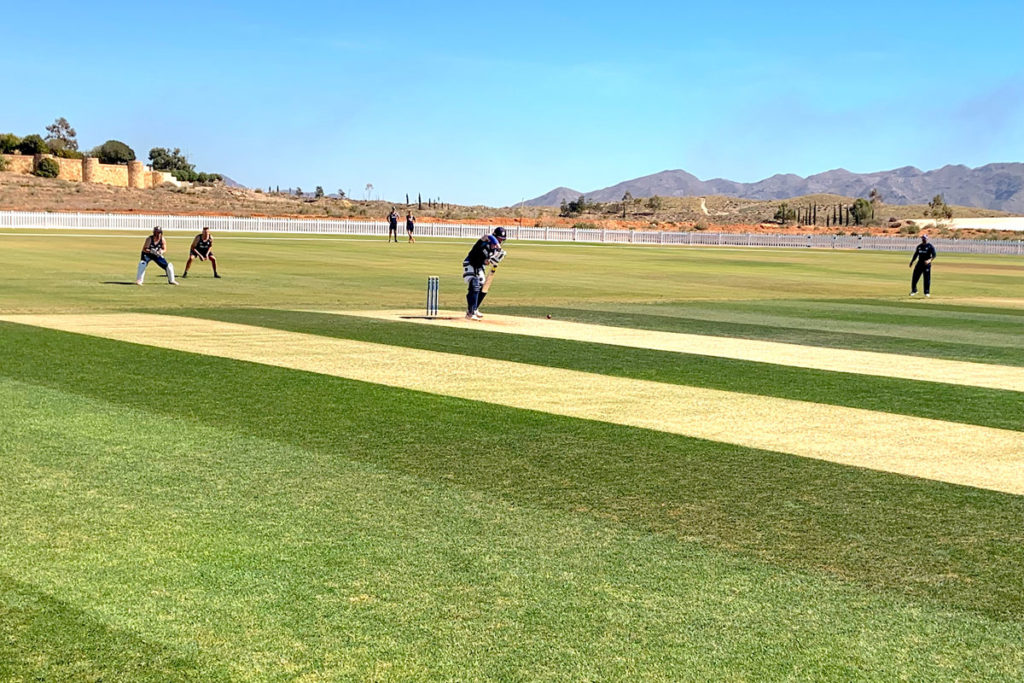 Derbyshire County Cricket Club training session taking place at the grass wickets at the Desert Springs Cricket Ground & Academy
Derbyshire County Cricket Club training session taking place at the grass wickets at the Desert Springs Cricket Ground & Academy
Derbyshire County Cricket Club 'Slip Catch' training session taking place at the Desert Springs Cricket Ground