The first 'Desert Springs Schools Golf Fiesta by Gullivers' was held at The Desert Springs Resort and Golf Club in Almeria South East Spain from the 9th to 11thh March with the involvement of Loretto School of Edinburgh in Scotland. In 2002, the Loretto School established 'The Loretto Golf Academy' the UK's first school golf academy. It attracts many talented golf scholars from around the world.
Gullivers Sports Travel is the UK's longest established and leading sports tour operator with over 30 years experience and well known for its involvement in major sporting events such as Rugby World Cups and the Ashes Tours. Equally important are the playing tours they organise for schools, clubs and universities. This event was the pre-cursor for what is set to be the most important annual event on the UK school's golf calendar; next year it will be attended by 12 school groups from across the UK. In the medium term it is intended to turn it into an international event.
Desert Springs Resort hosted the Spanish International Amateur Open just a week earlier and the course was in pristine condition when 16 pupils from the Loretto School Golf Academy each with single figure handicaps arrived at the Resort accompanied by Rick Valentine, Master in Charge of Golf and David Burton, Director of Sport, to take on the challenge of the Indiana in a 36-hole stroke play competition.
Accommodation was provided on resort in The Lodge @ Desert Springs and practice on the day of arrival was followed by dinner in the African ambience of the Crocodile Club, also on the resort. First Tournament day honours went to the Indiana Course itself with no players breaking 80! Second day scores were much improved; George Munsey finished on a total of 163, leading by 1 stroke, but Team Captain and +0.3 handicap golfer Tom Hayes recorded a best of the tournament 73 (2 over Par) to lift the shield as the first champion of the 'Gullivers Golf Fiesta'. Following the presentation a gala lunch was laid-on at the Resort's award winning El Torrente restaurant.
In his acceptance speech Tom Hayes remarked: – "The Indiana Course is awesome, an exceptional challenge and in immaculate condition. The Indiana is a very different course to the ones that we are used to playing on and everyone thoroughly enjoyed the experience. Thank you to Desert Springs and Gullivers Sports Travel for the organisation and support and we look forward to returning next year.'
Desert Springs' Director of Golf, Simon Coaker, commented: – "This event has highlighted the events potential of the Desert Springs Resort and its facilities and is another example of how working closely with some of the travel industries' largest and most established organisations we can attract quality client's such as Loretto School. Successful events of this type of success reinforce the image of the Resort as a holiday destination which will of course be of great benefit to all members and property owners."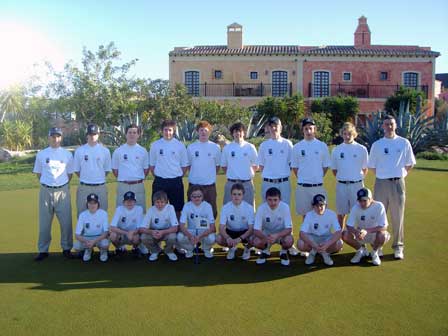 The Loretto Golf Academy @ Desert Springs