DESERT SPRINGS RESORT TO HOST 2023
DP WORLD TOUR QUALIFYING SCHOOL
The Desert Springs Resort, Europe's only international award-winning luxury family resort and championship desert golf course in the Almeria region of Andalucía, south-east Spain, has been selected to host this year's 2nd Stage of the DP World Tour Qualifying School between Thursday 2nd and Sunday 5th  November 2023.
Desert Springs Director of Golf, Simon Coaker commented:
"Desert Springs Resort is both delighted and honored to have been invited to be host to the second stage of the DP World Tour Qualifying School for what is now the fifth time.
The Indiana course is a stimulating test of golf, it's a thinking man's course, not easy to overpower, offering a variety of shot making challenges to test the skill level of every player and one that requires excellent course management skills.
For Desert Springs Resort and the Indiana course to be part of the journey that the best players in Europe travel, is a factor of both benefit and prestige to all at the Resort.
We very much look forward to welcoming the class of 2023 to Desert Springs Resort and to providing them with a wonderful experience."
Mike Stewart, DP World Tour Qualifying School Director said:
"We are thrilled to return to Desert Springs Resort once again, for what is now the fifth year."
We must thank everyone at Desert Springs Resort, particularly Group Sales and Marketing Manager & Director of Golf, Simon Coaker.
He and his team have made an exceptional effort over the years to develop this beautiful resort, and I am sure our players will enjoy the fruits of their labours during the Second Stage Qualifier."
Below is the schedule for the 2023 DP World Tour Qualifying Second Stage.
| | |
| --- | --- |
| Tuesday, 31st October | Official Practice Day |
| Wednesday, 1st November | Official Practice Day |
| Thursday, 2th November | Tournament Round 1 |
| Friday, 3th November | Tournament Round 2 |
| Saturday, 4th November | Tournament Round 3 |
| Sunday, 5th November | Tournament Round 4 |
| Monday, 6th November | Reserved in case of bad weather |
NOTE TO EDITORS
About Desert Springs Resort
Opened in 2001, Desert Springs Resort quickly established an international reputation for outstanding quality, attracting discerning golfers, international elite amateur teams and professionals, as well as major international events, including two Spanish Amateur Opens and PGA Europro Tour Championships.
Resort accommodation is provided in the apartments, townhouses and villas available for holidays and short breaks at Desert Springs Resort. Meals are served in the resort's Croc Restaurant, part of the family-friendly Crocodile Club that is geared up for a wide variety of leisure activities and the award-winning El Torrente Restaurant at the Club House.
Visiting golfers benefit from resort gated security and full management and services that ensure all aspects of a golfer's stay are taken care of. These include airport transfers, food hamper deliveries, and both resort and off-resort restaurant reservations.
Desert Springs Resort is served by three international airports, Almeria 45 minutes, Murcia/Corvera 70 minutes and Alicante 110 minutes away by car, making the area easily accessible with 2 1⁄2 hour chartered and scheduled flights from all parts of the UK and Ireland, as well easy access from the rest of Europe.
For further information about Desert Springs Resort, please CLICK HERE
Facilities already completed and in use at Desert Springs include:
The Indiana course, a par 72 -18-hole USGA specification golf course, designed by former Great Britain and Ireland Golf Team Captain Peter McEvoy who was inspired by the desert courses of Arizona and California;
a golf academy whose PGA qualified teaching professionals cater for several international teams, for many of the English County Union's elite squads; DP World Tour and LET players.
two tennis courts, two padel courts, beach volley ball and two football pitches – one is a full-size grass pitch; the other is designed for five-a-side games;
an ICC accredited cricket ground with an eighteen (18) wicket square, constructed to ECB standards and specifications open all year round. Complimented by a Marquee pavilion, sightscreens, scoreboard, sprint strips, and associated facilities
a Cricket Academy with facilities that comprise; twenty-four (24) grass wickets and run up with nets, requisite training equipment and a specific hard standing area, which provides outside space for facilities such as a free weights gym, stretching mats and a medical area.
a Spanish colonial style Golf Club House with a lounge, bar, restaurant, locker rooms, TV and reading rooms, and Golf Boutique;
The Crocodile Club which provides family fun at the heart of the resort with pools, equipped sand play areas, as well as a Jacuzzi, sun lawns and a pool bar;
a health and fitness club and spa.
Awards
Desert Springs Resort was awarded Best Golf Resort for Groups in Europe by the European Group Travel Awards (EGTA) and has been recognized within the Today's Golfer Top 100 Golf Resorts in Continental Europe and National Club Golfer Top 100 European Resorts. The Indiana Course has also been recognized as the 19th Best Golf Course in Spain, based on the reviews of players who rated the course on the Leading Courses website. Out of the 402 courses present on this ranking the Indiana Course occupies 19th place, and awards Desert Springs Golf Club with the "Golfers Choice" badge.
Desert Springs Resort has been awarded the Daily Mail Best Almeria Award and the Bentley International Property Awards for the Best Spain Development and Best Architecture, as well as the Spanish National Madera Verde Prize for Environmentally Sensitive Development & SICTED award for the distinction of "Commitment to Tourism Quality". El Torrente Restaurant has received the New Millennium International Gastronomy Award for the Tourist, Hotel and Catering Industry. This award was created by the Trade Leaders Club with the aim of distinguishing companies from all countries, for the outstanding quality of their products or services.
The climate of the Almanzora coastal region
Desert Springs Resort takes it name from the region's desert microclimate, which is unique in Europe. It has the warmest winter weather on the continent with an annual average of more than nine hours of daily sunshine and maximum daily temperatures of between 16°C (60°F) and 30°C (86°F) throughout the year.  Annual rainfall is less than 200 mm.  The Almanzora's coastal waters are among the cleanest and warmest in Europe, attracting both fish and diving enthusiasts.
Reader enquiries:
Simon Coaker

The Almanzora Group Ltd

Sales & Marketing Manager

The Manor, Boddington, Cheltenham,

Gloucestershire GL51 0TJ

Tel: +44 (0) 1242 680116

Email: scc@almanzora.com

www.desertspringsresort.es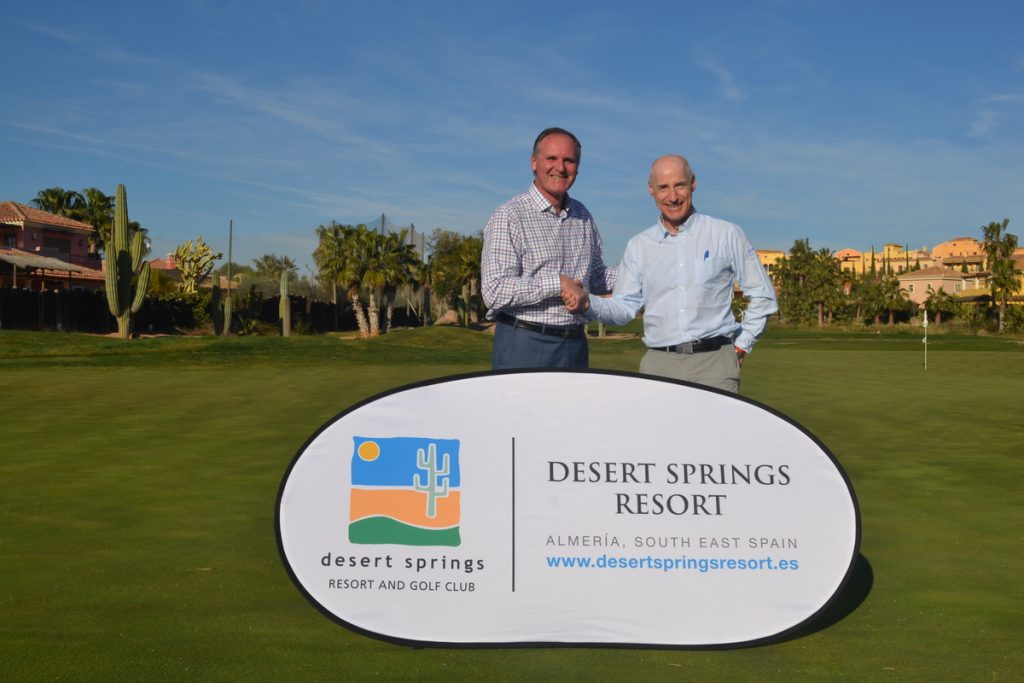 Desert Springs Director of Golf, Simon Coaker & Mike Stewart, DP World Tour Qualifying School Director
The Indiana Course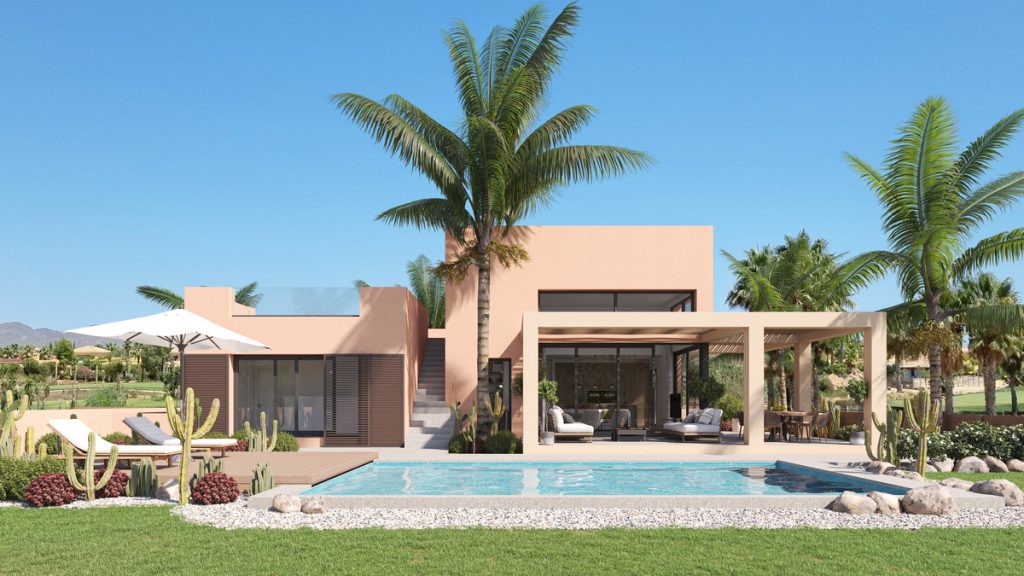 Spacious fairway frontage luxury villas overlooking the Indiana course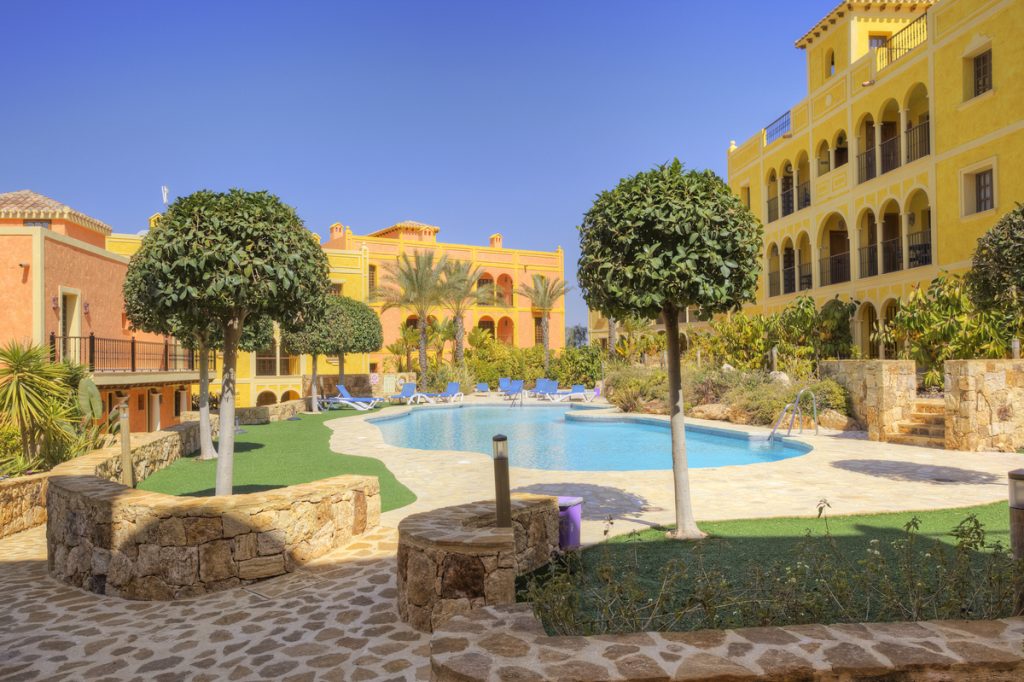 Apartments that overlook the Indiana course