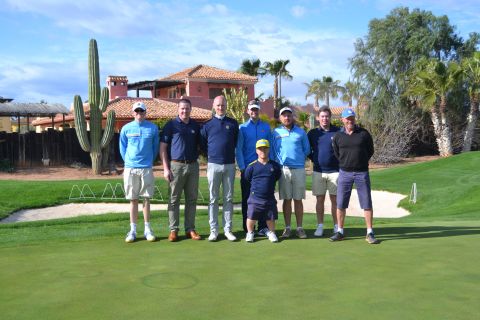 2014 World Amateur Team Disabled Golf Champions from Left to Right: Niklas Wiktor, Jorgen Tjelander, Alexander Hjalmarsson, Daniel Stark (Coach), Marcus Malo, Kristoffer Eklund, Per Sjoberg & Joakim Bjorkman attending the Winter Training Camp at Desert Springs Resort
Current World Amateur Team Disabled Golf Champions, The Swedish National Amateur Disabled Golf Team, are now back in Sweden having completed a successful seven (7) days of warm weather training between Sunday 22nd & Sunday 29th March at Desert Springs Resort, Europe's only international award-winning luxury family resort and championship desert golf course, in the Almanzora region of Almeria, Andalucía in south-east Spain.
During their time at the resort the players utilised the excellent practice facilities at the Golf Academy and played the Championship Indiana course.
Daniel Stark, Coach to The Swedish National Amateur Disabled Golf Team remarked:
"I loved the greens, especially first thing in the morning. Even though the course was busy, there was always a sensation of calm.
The surroundings of Desert Springs only added to the complete desert experience.
We loved the fact that we could play in the morning and then again in the afternoon!
The staff were extremely helpful and always on hand, we received anything we asked for within 10 seconds.
We will definitely be returning to Desert Springs!"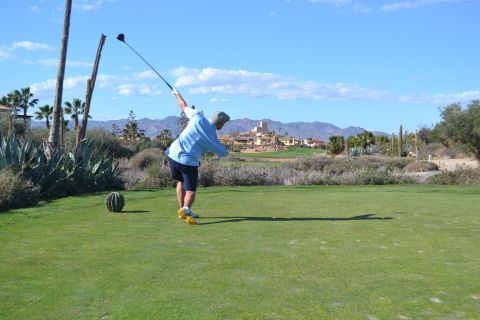 Squad member Per Sjoberg commented:
"The Indiana course provides for a very good test of golf, especially if there is a breeze, making you think about each shot you are going to play. The conditions of the course and practice facilities were excellent."
Held biannually, The 'World Amateur Disabled Golf Team Championship' is a 54-hole stroke play event with rules equivalent to the Eisenhower Trophy, however with the 'Modification of Rules of Golf for Golfers with Disabilities'. Team Selection and Eligibility decrees that players must be a representative of their countries Disabled Golf Association i.e. Europe- EDGA, USA-NAGA, Canada-CAGA and Japan-CAGA
Physically disabled players selected by their country, with an official Handicap of 11.4 and below (18 and below for women) are eligible to participate. A team consists of four players from each country, with the best three scores each day counting toward the team score. At the completion of 54 holes, the team with the lowest score is declared the Champion.
The players and officials where accommodated in one of the privately owned Country Villas normally reserved for holidays and short breaks at Desert Springs and the resort's executive chef was on hand to cater for the special dietary requirements of individual players dining in the award-winning El Torrente Restaurant.
For further information contact Alfonso Castiñeira
Tel: +34 670 613 900