The Dragon School U-13 players are now back in England having completed a successful five (5) days of warm weather pre-season cricket and fitness training between Saturday 11th – Thursday 16th April at Desert Springs Resort, Europe's only international award-winning luxury family resort and championship desert golf course with its very own dedicated Cricket Academy, in the Almanzora region of Almeria, Andalucía in south-east Spain.
Patrick Foster, Dragon School Master in Charge of Cricket, assisted by Neil Pickup and Alastair Bowden, accompanied twenty-two (22) players who completed bowling, batting and fielding practice as well as strength and conditioning training sessions as they stepped up their physical preparations for the upcoming 2016 season.
Patrick Foster, Dragon School Master in Charge of Cricket commented:
"The experience has been outstanding. I have been really impressed with everything, from the hospitality and service, through to the facilities.
The accommodation is superb and the resort has a wonderful atmosphere and the staff were extremely helpful with a wonderful 'can-do' attitude at all times with all requests. The only shame is that I didn't get the opportunity to play the golf course, next time!"
The training camp worked on a specific and carefully planned programme covering technical skills, strength and conditioning and both individual and group activity.
The Dragon School U-13 players said of their pre-season training experience at the Desert Springs Cricket Academy:
"I had a really good time using the fantastic facilities and apartments. There is a really good atmosphere at the resort and the location is amazing!" Tom Stacey – Age 13
"It was brilliant! The food was amazing and the cricket square was one of the best I have ever played on." Ludo Wilson – Age 12
 "I would totally recommend Desert Springs to people, the cricket facilities were super!"Tom Stephenson-Green – Age 12
"The food and facilities were amazing and the view from our room was amazing!" Will Hammersley – Age 13
"Amazing facilities and superb food!" Freddie Loehnis – Age 12
"The location is great and the facilities were amazing!" Conrad Peck – Age 12
"Super! The rooms were fantastic and the cricket facilities were incredible." Marc Livingston – Age 12
"I think that the facilities are great and the service and food is good, the rooms are big which is nice, I had a great time" Max Enssle – Age 12
To view a video of the Desert Springs Cricket Academy view: – Desert Springs Cricket Academy
The players and coaches were accommodated in some of the privately owned apartments and townhouses normally reserved for holidays and short breaks at Desert Springs and the resort's executive chef was on hand to cater for the special dietary requirements of individual players dining in El Torrente Restaurant.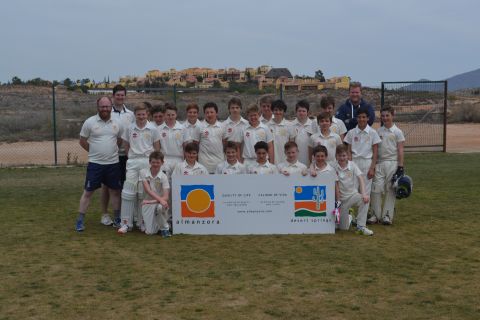 Dragon School U-13 Cricket Squad Training Camp at the Desert Springs Cricket Academy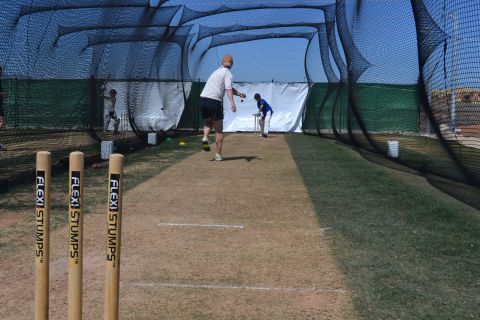 'Dragon School Batsman Practice Session' at the Desert Springs Cricket Academy
Dragon School using the 'Centre Wicket 'during their training camp at the Desert Springs Cricket Academy