Six (6) members of the ECB Pace Programme, accompanied by four (4) Management, staff and coaches are now back in England having completed a second successful 5-day training camp between Tuesday 27th February – Saturday 03rd March at Desert Springs Resort, Europe's only international award-winning luxury family resort and championship desert golf course with its very own dedicated Cricket Ground & Academy.
Kevin Shine, National Lead Pace Bowling Coach remarked of Desert Springs Resort and the training camp;
"This was our second visit during our winter training programme and it was the perfect finish to our camps. The facilities are superb and the staff made us feel so welcome. Thank you so much."
After their return from South Africa, the focus of the training camp was to provide an opportunity for the players to both work seriously on their batting, bowling & fielding skills as well as their fitness levels, through a specific strength and conditioning programme, to ensure that the players are in the best possible shape during their winter programme.
A varied programme of grass net practice, both bowling and batting took place at the Cricket Academy. Throw-downs, strength and conditioning work, running, speed and agility work were undertaken at both the Cricket Ground and Gym at the Sierras Sports Club.
Ben Langley, National Lead Physiotherapist remarked;
"Another great visit. Everything that is required for a successful training camp is delivered at Desert Springs."
A few of the players views of their experience at Desert Springs Resort during the training camp were;
Reece Topley; "A great trip made better by great service."
Zak Chappell; "Desert Springs Resort is a lovely place with great facilities and beautiful views."
George Scrimshaw; "This is a great place for a training camp, we had a lovely apartment, and wonderful food!"
Jamie Overton; "Thanks to all staff for another fantastic visit."
Tom Barber; "Desert Springs is a great place. We were all extremely well looked after.
Excellent facilities and food. Thank you."
To view the video of the Desert Springs Cricket Ground & Academy Click Here
The players and coaches were accommodated in some of the privately-owned Apartments normally reserved for holidays and short breaks at Desert Springs and the resort's executive chef was on hand to cater for the special dietary requirements of individual players at the award-winning 'El Torrente' Restaurant.
For further information:
Kirk Lovell
+34 647 414 899
kl@almanzora.com
ECB Coaching & Management Staff; Kevin Shine (National Lead Pace Bowling Coach) & Chris Molloy (ECB Operations) along with ECB Pace Squad Members, George Scrimshaw, Tom Barber, Jamie Overton, Zak Chappell, Reece Topley and Paul Walter at Desert Springs Resort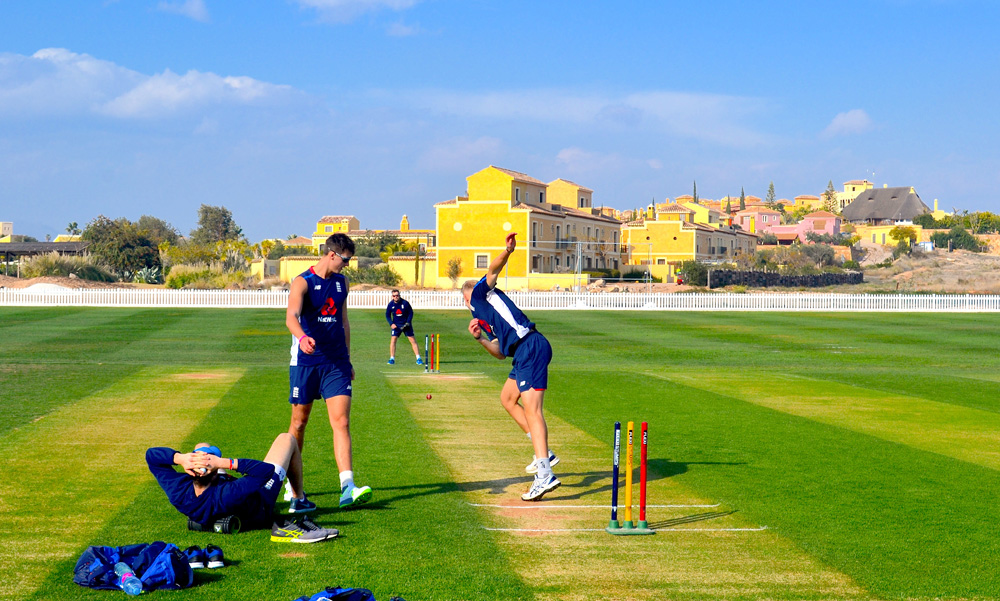 ECB Pace Programme 'Bowling Throw-down Training Session' at the Desert Springs Cricket Ground
ECB Pace Programme 'Nets Practice Session' at the Desert Springs Cricket Academy