Twenty (20) members of the ECB Physical Disability Squad, accompanied by six (6) Management, staff and coaches are now back in England having completed a successful 6-day pre-season training camp between Wednesday 28th March – Tuesday 03rd April at Desert Springs Resort, Europe's only international award-winning luxury family resort and championship desert golf course with its very own dedicated Cricket Ground & Academy, in the Almanzora region of Almeria, Andalucía in south-east Spain.
Ian Salisbury, Head Coach of England's physical disability team remarked of Desert Springs Resort and the training camp;
"If you ever want the perfect preparation for a season, go to Desert Springs for your pre-season! Thank you to all the staff for making us feel so welcome."
Chris Highton, ECB physical disability team Performance Analyst commented:
"Excellent visit, really well looked after, nothing was too much trouble. Hope to see you next year."
The focus of the training camp was to provide an opportunity for the players to both work seriously on their batting and bowling skills as well as their fitness levels, through a specific strength and conditioning programme, to ensure that the players are in the best possible shape leading up to the commencement of the new season.
Grass net practice, both bowling and batting took place at the Cricket Academy, whilst strength and conditioning work, running, speed and agility work was completed at both the Cricket Ground and Gym at the Sierras Sports Club.
A varied programme at the cricket ground involved training sessions comprising; throwdowns, slip catch fielding, outfield fielding practice and match simulations that all culminated in T-20 matches taking place at the new cricket ground at Desert Springs.
A few of the players views of their experience at Desert Springs Resort during the training camp were;
Matt Askin; "Desert Springs Resort is a fantastic facility with fantastic staff who will go above and beyond what would be expected to make us feel comfortable. A brilliant opportunity that we have made the very most of."
James Nordin; "Outstanding facilities and staff. Everything we wanted or required was taken care of. The pitches and training facilities were first class, and the accommodation and food was excellent."
Liam O'Brien; "Very good facilities and all the staff were very welcoming and helpful."
Alex Hammond; "I loved my time here at Desert Springs! The facility is amazing, and all the staff were so helpful and polite."
To view the video of the Desert Springs Cricket Ground & Academy Click Here
The players and coaches were accommodated in some of the privately-owned Apartments normally reserved for holidays and short breaks at Desert Springs and the resort's executive chef was on hand to cater for the special dietary requirements of individual players at the 'Crocodile Club' Restaurant.
For further information:
Kirk Lovell
+34 647 414 899
kl@almanzora.com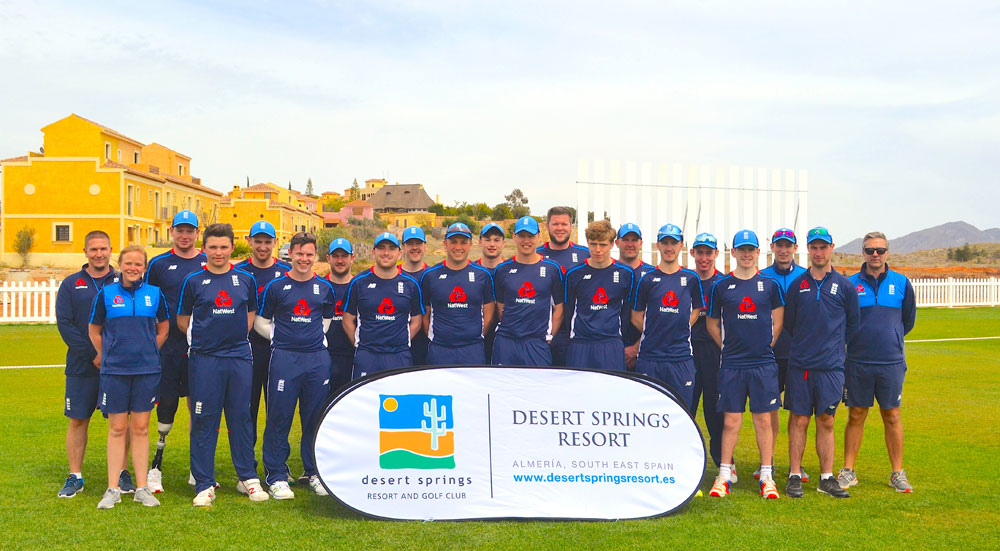 The ECB Physical Disability Squad & Management at Desert Springs Resort
'Nets Practice Session' at the Desert Springs Cricket Academy
'Match Day at the Desert Springs Cricket Ground'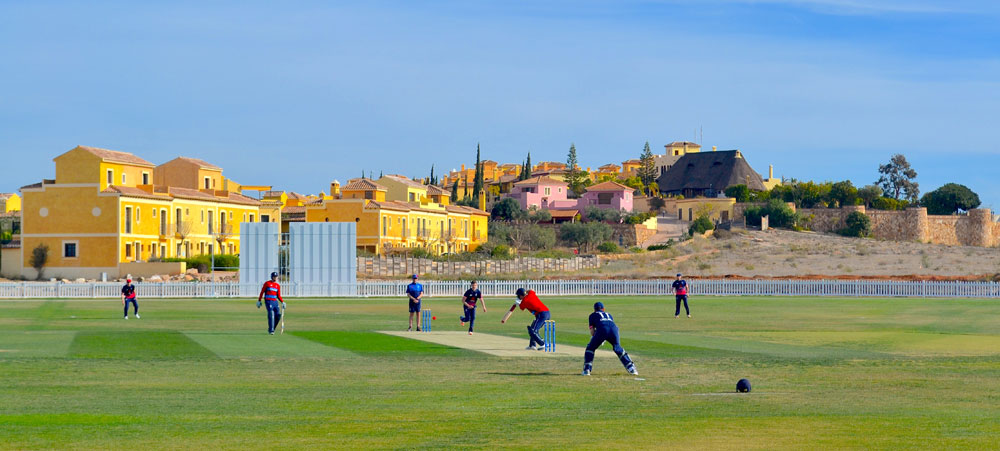 'The ECB Physical Disability Squad putting practice into reality at the Desert Springs Cricket Ground'