Eighteen (18) members of the ECB Young Lions Squad, accompanied by eleven (11) Management, staff and coaches are now back in England having completed a successful 3-day training camp between Saturday 11th – Tuesday 14th November at Desert Springs Resort, Europe's only international award-winning luxury family resort and championship desert golf course with its very own dedicated Cricket Ground & Academy.
Matt Hipwell, Team Manager remarked of Desert Springs Resort and the training camp;
"The resort staff couldn't do enough to ensure that we had a comfortable stay. We felt very secure during our visit. The accommodation was excellent."
The focus of the training camp was to provide an opportunity for the players to both work seriously on their batting, bowling & fielding skills as well as their fitness levels, through a specific strength and conditioning programme, to ensure that the players are in the best possible shape during their winter programme which continues with a Tri-Series in South Africa also including Namibia, as all three teams continue preparations for the ICC Under-19s World Cup in New Zealand in January.
Team meetings, catering provided at the Crocodile Club restaurant, fitness sessions at the Sierra Sports Club Gym and study sessions for the players to complete university work were all on the agenda.
Richard Dawson, Spin Bowling Coach remarked of his experience;
"The accommodation was really comfortable, lovely setting, good number of nets and additional space for fielding."
Chris Taylor, Fielding Coach commented;
"Didn't want for anything. Hospitality first rate, service levels exceptional. Extremely enjoyable trip."
Andy Mitchell, Strength & Conditioning Coach said;
"The upgraded gym facilities have really added value to our training and allowed our young athletes to continue their elite athletic development."
Some of the players views of the training camp were;
"Amazing facilities in a great location which allowed us to train in similar conditions to South Africa" Adam Finch, "Excellent outdoor facilities, great accommodation and food" Tom Scriven, "Amazing facilities, great place to get some warm weather training" Dillon Pennington, "Excellent facilities, awesome resort!" Harry Brook, "Great accommodation and food, excellent facilities" Prem Sisodiya, "Outstanding facilities in a picturesque setting" Tom Lammonby, "Class, loved it all!" Roman Walker, "Lovely to get outside at this time of year. Beautiful setting with class facilities" Ethan Bamber, "Quality facilities, excellent food" Luke Hollman, "Delicious food" Fin Trenouth, "Accommodation brilliant!" Tom Banton,
To view the video of the Desert Springs Cricket Academy Click Here
The players and coaches were accommodated in some of the privately-owned villas and apartments normally reserved for holidays and short breaks at Desert Springs and the resort's executive chef was on hand to cater for the special dietary requirements of individual players at the Crocodile Club Restaurant.
For further information contact:
Kirl Lovell
+34 647 414 899
kl@almanzora.com
ECB Young Lions Squad Members; Fin Trenouth, Tom Banton, Harry Brook, Will Jacks, Prem Sisodiya, Hamidullah Qadri, Tom Lammonby, Roman Walker, Ethan Bamber, Jack Davies, Savin Perera, Luke Hollman, Liam Banks, Jack Plom, Felix Organ, Tom Scriven, Dillon Pennington & Adam Finch at Desert Springs Resort.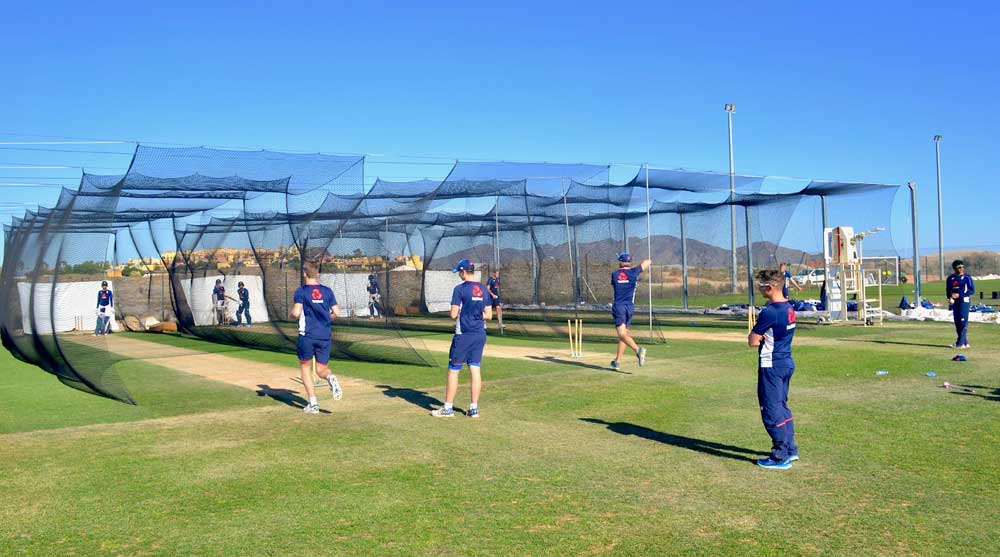 'Nets Practice Session' at the Desert Springs Cricket Academy
'Batsman Practice Session' at the Desert Springs Cricket Academy